Launch event of "Nano-Herbal Kavach" held on 14.05.2022 at SPPU-Research Park Foundation, Savitribai Phule Pune University, Pune
Surface sanitization of public place is the most important practice for protection of the general population against the outbreak of infectious diseases. We have observed the scarcity of materials, workers and time for sanitization of stair grills, escalators and trolley handle at hospitals, malls, airports, bus stands, railway stations and other public places makes the sanitization process difficult. Moreover, conventional surface sanitization methods are insufficient to provide protection to user due to the frequent contamination of repeatedly touching areas in public places. The sanitization by disinfectant with cloth/napkins may remove germs only once from the surface by wiping but, does not keep it sanitized for a longer time as it may get contaminate more frequently by human intervention. Therefore, continuous cleaning of frequently touched public places is required, which is time-consuming, less accurate and less effective. So, there is a need to develop a novel disinfectant formulation and surface sanitization tool that is economical, user friendly, anti-virulent and can provides extended protection from germs.
Therefore, to fulfil this requirements, Krishna Institute of Medical Sciences "Deemed to be University" Karad in association with Design Innovation Centre (DIC)- SPPU and SPPU-Research Park Foundation, Pune has developed "Nano-Herbal Kavach" which contains cleaning pod and hybrid disinfectant made out of nanoparticles and herbal compounds for protection of open surfaces from germs. The product is anti-virulent and provides extended protection up to 5 hours against all types of germs.
The cleaning pod can fit into the different dimensions of grills to be sanitized and nano-herbal formulation can apply through the pod. The pod has several advantages over conventional cleaning methods such as, less manpower required, easy and safe handling, robust, improved efficiency of sanitization and higher precision.The product has tested and validated by NABL accredited lab for its germicidal efficacy and ability of extended protection for open surfaces up to 5 hours.
The tire some efforts in research and development of Nano-Herbal Kavach was taken by Dr. Jayant Pawar, Research Scientist, KIMSDU and Dr. Pooja Doshi, DIC-SPPU under the guidance of Dr. D. K. Agarwal and Dr. A. D. Shaligram.
The product was launched by Hon'ble Dr. Nitin Karmalkar, Vice-Chancellor, Savitribai Phule Pune University, Pune in presence of Dr. N. S. Umarani, Pro-vice Chancellor, SPPU, Pune, Dr Prafulla Pawar, Registrar, SPPU, Pune, Dr. D. K. Agarwal, Additional Director of Research, KIMSDU, Dr. Arvind Shaligram CEO, SPPU-Research Park Foundation, Pune and Dr Jayant Pawar, Research Scientist, KIMSDU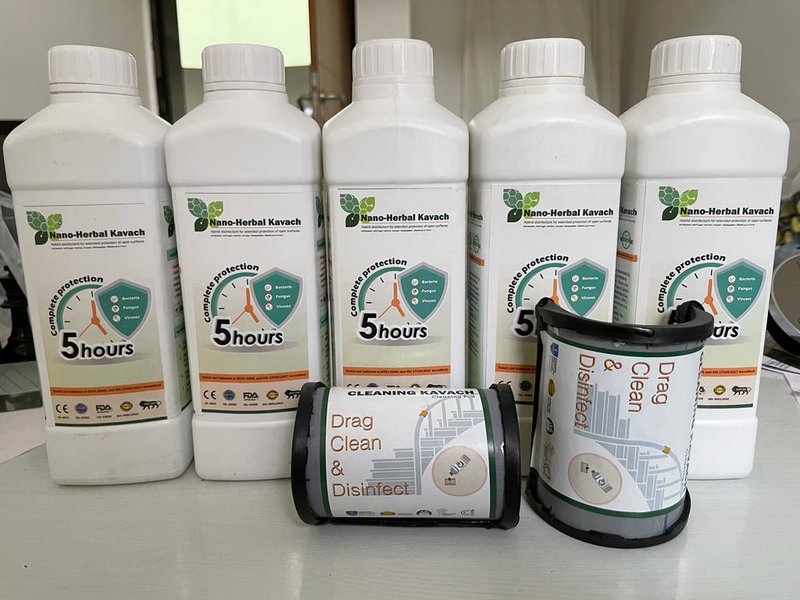 Product contains Nano-herbal Kavach and Cleaning Kavach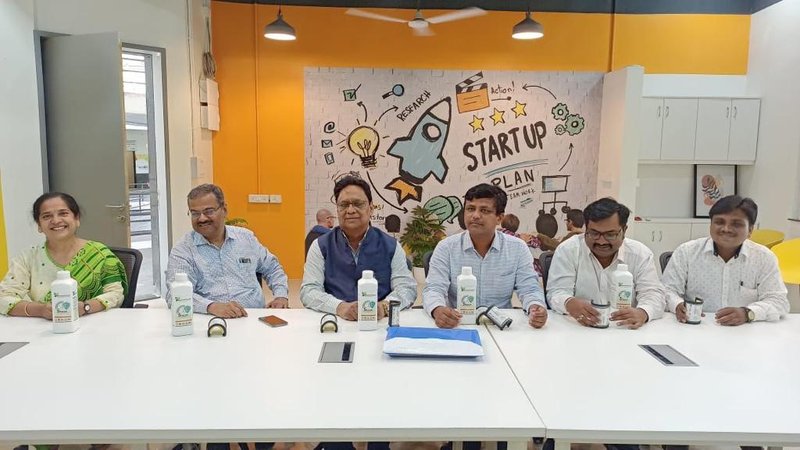 Product is now available for Tech Transfer