Neurosciences

02164-241555/6/7
Head of Department :
Dr. Suraj B. Kanase
Professor & Head.
About Department Of Neurosciences
The Neuro-department maintains exemplary record of panoramic patient care,
analytical teaching and training of students with significant commitment towards
research. The department is dedicated to improve functions of patients who have
suffered impairments caused by neurological conditions.
Department of Neurophysiotherapy is actively involved in clinical care using conventional
and neurophysiological approaches for betterment of patients. Advanced skills like Bobath therapy, Brunnstrom approach, Rood's approach, Proprioceptive Neuromuscular Facilitation (PNF) approach, Motor relearning program (MRP), Constrained Induced Movement Therapy (CIMT), virtual reality are regularly practiced. Conventional skills like passive movements, Functional reeducation exercises, MAT exercises, Balance training, Frenkle's exercises, Gait training, Massage therapy, mobility training, strength training are practiced daily.
Vision
To prepare globally competent highly skilled Physiotherapists.
To provide effective Physiotherapy care for all physical health problems.
Mission
To adapt modern method of teaching and implementing Physiotherapy skills.
To provide suitable atmosphere for the students and staffs to update their knowledge.
To provide technologically challenged Physiotherapy care for the patients.
To demonstrate skills in teaching, management, research guidance and counseling.
To practice moral, ethical values and uphold the dignity of Physiotherapy profession by
participating in various Professional activities.
Objectives
To provide comprehensive clinical and research experience in Physiotherapy.
To provide holistic health care services to all and to produce Competent, skilled and
dedicated Physiotherapists.
To ensure skill development and analytical approach for treating patients with various
disorders.
Important Infrastructure
The Neurodepartment is well equipped with the present day modalities such as
electromyography (EMG), Gait lab, biofeedback, electrical stimulators for diagnosis
of various neurological disorders. For treatment, multiple gym exerciser, recumbent
bicycles, electrical treadmill suspension therapy, parallel bar with mirror, wobble
boards, shoulder wheel, super rider, hand training unit, swiss ball, bed cycle, balance
board, hot moist packs, electrical stimulators, peg boards, quadriceps table, rowing
machine, walkers, dumbbells are used.
Teaching Learning Method
Integrated Teaching
Seminars
Project based learning
Lectures
Practical learning
Problem-based/ enquiry –based learning Project
Clinical and preclinical learning
e-learning
Peer Teaching
Small group teaching
HOD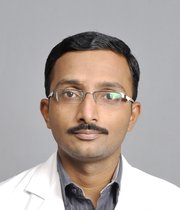 Dr. Suraj B. Kanase
Professor & Head.

Tel (Office) – 02164-241555/6/7

deanphysiotherapy@kvv.edu.in
Dr Suraj B. Kanase having 12.9 years of professional experience graduated from Maharashtra University of health sciences, Nashik and post-graduation from Krishna institute of medical sciences deemed to be university, Karad. Presently he is Executive committee member of Maharashtra State Indian association of Physiotherapists. He has 79 research publications in indexed journals, 4 copyrights in his credit. So far, he has guided more than 40 undergraduates and 10 post graduate students. He is awarded supremacy by Asian journal of cardiology, biotechnology international, research in surgery in infectious diseases and hematology. He has undergone course training on Multiple sclerosis from Menzies institute of medical research, by university of Tasmania. He has authored a book on "Task Related Training for Hemiplegic Gait in Stroke Survivors" (ISBN-10 3659818224).
Staff

Dr. Pragati Patil
M.P.Th
Assistant Professor

Dr. Mayuri Shah
M.P.Th
Assistant Professor

Dr. Ankita Jadhav
M.P.Th
Assistant Professor
Events, Webinar, Workshop, Conference
IPR (Intellectual Property Rights)
| Sr. No | Title of Patent | Name of Faculty | Application No. | Date |
| --- | --- | --- | --- | --- |
Publications
| Sr. No | Title of the paper | Name of the Author/s | Name of the Journal | Month of Publication |
| --- | --- | --- | --- | --- |
Copyrights
| Sr. No | Name of faculty / student | No and date | Title of Copyright |
| --- | --- | --- | --- |