Pharmacognosy

02164-241555/6/7
About Department Of Pharmacognosy
The Department of Pharmacognosy at Krishna Institute of Pharmacy aims at imparting wholesome knowledge related to the students. We are dedicated to educate the students in such a manner, that they shall be able to cope with the demands of herbal drug industry. We are motivated to instill the skill sets that the students are expected to possess in the competitive arena of Pharmaceutical education, research and industry.
Our faculty members are devoted to cultivating a learning environment conducive for overall development of students. We utilize innovative pedagogical practices state-of-the-art facilities to provide a supportive learning experience to the students. Our faculty members are also actively involved in research in areas such as isolation, extraction and standardization of herbal drugs and medicinal plant biotechnology. We encourage students to take up research projects.
Our department has advanced facilities, well-equipped laboratories, museum as well as medicinal plant garden for better understanding related to the subjects. Our domain expertise includes subjects like, Pharmacognosy and Phytochemistry, Herbal Drug Technology, Quality Control and Standardization of Herbals, Plant Tissue Culture and Dietary Supplements and Nutraceuticals.
Vision
To make students competent enough to utilize the potential of herbal drugs with respect to pharmaceutical product development.
Mission
To provide a holistic learning environment and to accord impetus to the skills of the students to explore the flora and fauna regarding its medicinal value as well as to impart knowledge related to the subject to the fullest capacity.
Objectives
To develop an understanding amongst the students regarding the phytochemical
screening, extraction and isolation methods.
2. To develop an inclination amongst the students towards identification and
characterization of lead compounds from natural sources.
3. To encourage the entrepreneurship skills within the students with regards to herbal
pharmaceuticals and cosmeceuticals.
Teaching Learning Method
Experiential learning- Hands on experimentation
Participatory learning- Quiz, Pre and Post tests
Peer peer teaching- Seminars
Flipped classroom
Staff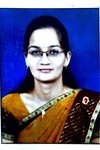 Miss. Jotsna Mohanlal Gandhi
M.Pharm
Associate Professor
Mrs. Pallavi Santosh Karanje
M.Pharm
Assistant Professor

Dr. Jyotiram Sawale
Ph.D, M.Pharm (Pharmacognosy)
Professor
Events, Webinar, Workshop, Conference
IPR (Intellectual Property Rights)
| Sr. No | Title of Patent | Name of Faculty | Application No. | Date |
| --- | --- | --- | --- | --- |
Publications
| Sr. No | Title of the paper | Name of the Author/s | Name of the Journal | Month of Publication |
| --- | --- | --- | --- | --- |
Copyrights
| Sr. No | Name of faculty / student | No and date | Title of Copyright |
| --- | --- | --- | --- |

TOP