Pharmaceutics

02164-241555/6/7
Head of Department :
Dr. Shete Amol Somanath
Dean (I/C), Associate Professor
About Department Of Pharmaceutics
The Department of Pharmaceutics at Krishna Institute of Pharmacy strives to offer students a comprehensive education in the field of pharmaceutics. Our department is dedicated to ensuring that our graduates have the requisite knowledge and skills to meet the changing demands of the healthcare industry. Our broad curriculum encompasses topics such as biopharmaceutics, drug delivery systems, pharmaceutical microbiology, biotechnology, and the formulation and development of pharmaceutical products. Our experienced faculty members are dedicated to cultivating a supportive learning environment for students and utilize innovative teaching techniques and state-of-the-art technologies to provide a well-rounded education. The faculty members are also actively involved in cutting-edge research in areas such as novel drug delivery systems, crystal engineering, drug bioavailability enhancement and nanotechnology and encourage students to participate in research projects and publications. Our department is equipped with advanced facilities, including well-equipped laboratories with cutting-edge instruments such as the ATR-FTIR spectrophotometer, Brookfield viscometer, automatic diffusion cell apparatus, cooling centrifuge, lyophilizer, rotary evaporator, stability chamber, and more. In collaboration with industry partners and research institutions, we offer students opportunities for hands-on learning and research experience. Our focus on excellence and innovation is aimed at preparing the next generation of pharmaceutical scientists who will have a positive impact on society. Under the umbrella of pharmaceutics department we are having three post graduate programs namely M.Pharm in pharmaceutics, Regulatory affairs and Pharmaceutical quality assurance.
Vision
To emerge as a pioneering and transformative force in the field of pharmaceutics, driving
breakthrough advancements in drug delivery systems, fostering interdisciplinary
collaborations, and establishing a lasting impact on patient health and well-being globally.
Mission
Provide high-quality education and training in pharmaceutics, equipping students with
the knowledge and skills needed for successful careers in the pharmaceutical industry,
academia, or research.
Conduct cutting-edge research in drug delivery systems and formulations, aiming to
develop innovative approaches that improve therapeutic outcomes and address unmet
medical needs.
Foster collaborations and partnerships with industry, regulatory bodies, and healthcare
organizations to facilitate knowledge exchange, technology transfer, and professional
development opportunities for faculty, students, and researchers.
Promote ethical practices, professionalism, and a commitment to improving patient
care through the responsible development and use of pharmaceutical products.
Objectives
Excellence in Education: Provide high-quality education and training in pharmaceutics, ensuring students receive a strong foundation in pharmaceutical sciences, drug delivery systems, and formulation development.
Cutting-edge Research: Conduct innovative research in pharmaceutics, focusing on the development of new drug delivery technologies, formulations, and therapies to address current and emerging healthcare challenges.
Collaboration: Foster collaborations with pharmaceutical industries, research institutes, regulatory agencies, and healthcare organizations to facilitate knowledge exchange, collaborative research projects, and internships, preparing students with industry-relevant skills and enhancing their understanding of real-world
pharmaceutical practices.
Positive Societal Impact: Contribute to the improvement of society and healthcare outcomes by developing patient-centered drug delivery systems, promoting rational drug use, advocating for improved medication access, and actively participating in public health initiatives.
Teaching Learning Method
At our pharmaceutics department, we employ a dynamic and interactive teaching-
learning approach that combines traditional methods with modern technologies to enhance student engagement and knowledge retention. Our experienced faculty members utilize a blend of PowerPoint presentations and chalkboard demonstrations to deliver comprehensive lectures, ensuring conceptual clarity and facilitating active participation.
We foster an inclusive learning environment where students are encouraged to ask
questions, engage in discussions, and explore practical applications of theoretical concepts. Our faculty members are dedicated mentors who provide individualized attention and guidance to nurture students' intellectual growth and professional development.
In addition to classroom teaching, we emphasize hands-on learning experiences
through laboratory practical sessions, research projects, and industrial visits. These
opportunities enable students to apply theoretical knowledge to real-world scenarios, develop critical thinking skills, and gain practical insights into pharmaceutical sciences.
To further enrich the learning process, we embrace technology by incorporating
multimedia resources, interactive simulations, and online learning platforms. These tools
enhance the accessibility and effectiveness of educational materials, allowing students to
review lectures, access supplementary resources, and collaborate with peers beyond
traditional classroom hours.
By adopting a student-centered approach, we strive to cultivate a passion for lifelong
learning, professional growth, and innovation among our students. Our teaching-learning methods aim to empower aspiring pharmaceutical scientists with the skills, knowledge, and ethical values necessary to excel in their careers and contribute to the advancement of the pharmaceutical field.
HOD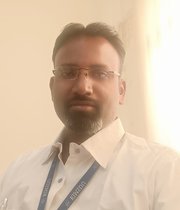 Dr. Shete Amol Somanath
Dean (I/C), Associate Professor

Tel (Office) – 02164-241555/6/7

deankip@kvv.edu.in
Staff

Dr. Vishwajeet Sampatrao Ghorpade
M. Pharm., PhD
Associate Professor

Mrs. Swati B. Udugade
M. Pharm., PhD
Associate Professor

Mrs. Madhuri Mahesh Desai
M.Pharm
Assistant Professor

Mr.Raghwendra Raosaheb Waghmode
M.Pharm (Pharmaceutics)
Assistant Professor

Mrs. Madhuri Bhushan Patil
M pharmacy (Biopharmaceutics)
Assistant Professor

Ms. Anuya Vimalakar Babar
M.Pharm
Assistant Professor
Ms. Shreya Shrishail Pattanshetti
M.Pharm
Assistant Professor

Mr. Amit Ramchandra Kumbhar
M.Pharm
Assistant Professor

Pramod Anil Patil
M.pharmacy
Assistant Professor

Ms. Sandhyarani Ramesh Sagavkar
M. Pharm (Pharmaceutics)
Assistant Professor
Events, Webinar, Workshop, Conference
IPR (Intellectual Property Rights)
| Sr. No | Title of Patent | Name of Faculty | Application No. | Date |
| --- | --- | --- | --- | --- |
Publications
| Sr. No | Title of the paper | Name of the Author/s | Name of the Journal | Month of Publication |
| --- | --- | --- | --- | --- |
| 1 | Liquid Crystals characteristics, types of phases and applications in drug delivery. | Shete A.S, Doijad R.C et.al. | Pharmaceutical chemistry journal (Springer). 55, pages 106–118 (2021) Impact factor (Thomson Reuters ) =0.5 | 2021 |
| 2 | Studies on Formulation and Evaluation of Eudragit RS PO Based Nanoparticulate System of Aceclofenac for Ocular Delivery | Shete A.S | Indian journal of pharmaceutical education and research Vol 55 | Issue 1 [Suppl] | Jan-Mar, 2021 | 2021 |
| 3 | D-ɑ-tocopheryl polyethylene glycol succinate: A review of multifarious applications in nanomedicines | Shete A.S | OpenNano, Volume 6, March–April 2022, 100036 (Elsevier) | 2022 |
| 4 | D-ɑ-tocopheryl polyethylene glycol succinate: A review of multifarious applications in nanomedicines | Shete A.S | OpenNano, Volume 6, March–April 2022, 100036 (Elsevier) | 2022 |
| 5 | Fenofibrate-Nicotinamide Cocrystals: Molecular Docking Studies and Evaluation in Tablet Dosage Form. | Shete AS, Shah VV, Bhosale PA, Doijad RC | Indian Journal of Pharmaceutical Sciences. (Impact factor Thomson reuters:0.70 ) | May/June 2022 |
| 6 | Formulation and In-vitro, In-vivo Evaluation of Itraconazole and Itraconazole Co-Crystals Loaded Glyceryl Monooleate Based Liquid Crystalline Gel | Shete AS. Doijad R.C et.al | Research J. Pharm. and Tech | July 2022 |
| 7 | Eudragit s-100 based nanoparticles of diltiazem hydrochloride for chronotherapeutic delivery | Shete AS. Doijad R.C | IJBPAS (International journal of biology, pharmacy and allied sciences | September 2022 |
| 8 | Screening of acelcofenac for cocrystallization with nicotinamide ; Theoretical and practical perspective | Shete A.S , Doijad R.C | Indian Journal of Pharmaceutical Sciences. (Impact factor Thomson reuters:0.70 ) | Nov –dec 2022 |
| 9 | In Vitro Comparison of Antimicrobial activity of NIGELLA Sativa Methanolic Extract and Triclosan on Streptococcus Mutans | Dr. Amol Shete | Journal of Pharmaceutical Negative Result | Jan 2023 |
| 10 | Synthesis And Characterization Of Citric Acid Crosslinked Carboxymethyl Tamrind Gum Polyvinyl Alcohol Hydrogel Film | Dr.Vishwajeet Ghorpade | International Journal Of Biological Macromolecules | February 2023 |
| 11 | Anti-oxidant potentials of the fruit of coccinia grandis | Udugade S.B, Jadhav S.A , Doijad R.C and Udugade B.V | International Journal of Biology, Pharmacy and Allied Sciences | September 2021 |
| 12 | In silico Analysis of 4-((1-(3-Nitrophenyl)-5- oxo-3-phenyl-4,5-dihydro-1H-pyrazol-4- yl)methyl)benzoic Acid: An Emerging 3-CLpro Non-peptidic Inhibitors for COVID-19 | Swati Udugade, Harshal Tare, Babaso Udugade , Vijaykumar Wakale, and Chetan Pulate | Asian Journal of Organic &Medicinal Chemistry | 2022 |
Copyrights
| Sr. No | Name of faculty / student | No and date | Title of Copyright |
| --- | --- | --- | --- |