Forensic Medicine & Toxicology

02164-241555/6/7
Head of Department :
Dr. Chandrakant M Kokatanur
Professor & Head.
About Department Of Forensic Medicine & Toxicology
The department is engaged in research work and training the medical students. The students are trained about the legal formalities that they have to follow during the treatment of the patient; how to assist the judiciary by carrying out proper medicolegal work; court room conduct and procedures; treatment and medicolegal issues related to poisoning cases; and conduction of post-mortem work. Research work is also carried out which contributes to the improvement of subject.
Vision
To bring out doctor who are competent in treating poison cases; and assist the judiciary by carrying out various medico legal work.
Mission
To uplift the Forensic Medicine and Toxicology branch through various research work and quality education.
Objectives
✔ To carry out the research work which can assist in criminal justice.
✔ To train doctors so that they can alleviate the medical health problem.
Important Infrastructure
The institution fulfils all the requirements of national Medical commission with respect to infrastructure and equipment's.
Teaching Learning Method
The institution conducts frequent workshops to train the teachers about effective usage of various teaching learning methods the same is followed.
HOD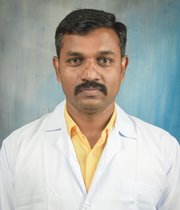 Dr. Chandrakant M Kokatanur
Professor & Head.

Tel (Office) – 02164-241555/6/7

hodfmt@kvv.edu.in
Dr. Chandrakant M Kokatanur is working as Professor and Head from 1st July 2022. He is interested in research and has 21 publications in national and international journals. He has been involved in undergraduate teaching since 14 years and has 31 copyrights related to Forensic Medicine.
Staff

Dr Hemanth Kumar R G
MBBS, MD
Professor

Dr. Ajay Y Pednekar
MBBS, MD
Associate Professor

Dr. Nelson Nishant Kumar Lyngdoh
MBBS,MD,PGDMLE
Associate Professor

Dr. Patil Pradip Marutrao
MBBS
Tutor

Dr. Atul Bhagwan More
MBBS
Tutor

Dr. Suryawanshi Rohidas RaJaram
MBBS
Tutor

Dr. Jadhav Sharad Vitthal
MBBS
Tutor
Events, Webinar, Workshop, Conference
IPR (Intellectual Property Rights)
| Sr. No | Title of Patent | Name of Faculty | Application No. | Date |
| --- | --- | --- | --- | --- |
Publications
| Sr. No | Title of the paper | Name of the Author/s | Name of the Journal | Month of Publication |
| --- | --- | --- | --- | --- |
| 1 | Estimation of stature from Head breadth in medical students | Chandrakant Kokatanur, Ajay V. Patil, Vinay Bannur, | Journal of South India Medicolegal Association, vol. 13, No.2, Page No.106-111, | September 2021 |
| 2 | Study of serum malondialdehyde and uric acid levels in patients with malaria :case control study | Sharad B Kole, Irfan G Mulla,Nelson Nishant Kumar Lyngdoh, Sunil Kharge,Seema S.Kole,A.Y.Mane, Aarti K Salve,Abhishek Talathi. | International Journal of Medical Science and Current Research (IJMSCR) Vol.5, Issue-1, Page No. 590-594, Jan-Feb 2022 | Jan-Feb 2022 |
| 3 | Stature Estimation by percutaneous length of Ulna amongst the people belonging to Gadag, Karnataka. | Chandrakant M Kokatanur, Vinay R Hallikeri, Hareesh S Gouda, Raju GM | Journal of South India Medicolegal Association Volume 14, Number 1, March 2022 | March 2022 |
| 4 | Comparative evaluation of alkaline phosphatase levels in saliva and Gef in chronic periodontitis patients: Pre and post periodontal therapy | Irfan G.Mulla, Nelson Nishant Kumar Lyngdoh, Raj Kishen Agarwal,Varsha Jadhav,Rashmi Heralgi, Aarati Salve. | International Journal of Medical Science and Current Research (IJMSCR) Vol.5, Issue-4, Page No. 1200-1205, July-Aug 2022 | July-Aug 2022 |
| 5 | Assessment of alteration in blood alcohol concentration with time in samples collected from living human subjects. | Dr.C.M.Kokatanur,Dr.Ajay Pednekar,Dr.Nelson Nishant Kumar Lyngdoh. | Journal of positive school psychology,Vol.6,No.10, Page No.3047-3050, Oct-2022 | Oct-2022 |
| 6 | To Evaluate the pattern of ligature marks &their relationship to death mode. | Dr.Ajay Pednekar,Dr.Nelson Nishant Kumar Lyngdoh , Dr. C.M.Kokatanur | Journal of positive school psychology,Vol.6, No.10,Page No.3051-3056, Oct-2022 | Oct-2022 |
| 7 | To Determine the foot measurement for stature estimation. | Dr. C.M.Kokatanur, Dr.Ajay Pednekar, Dr.Nelson Nishant Kumar Lyngdoh. | Journal of positive school psychology,Vol.6, No.10,Page No.3057-3061, Oct-2022 | Oct-2022 |
| 8 | To Record poisoning related changes in liver autopsy. | Dr.Ajay Pednekar, Dr. .Nelson Nishant Kumar Lyngdoh, Dr. C.M.Kokatanur. | Journal of positive school psychology,Vol.6, No.10 Page No.2590-2593, | Oct-2022 |
| 9 | Fatality by thoraco-abdominal injuries in cases of accidental deaths in two –wheeler riders: A 200 cases study. | Dr. .Nelson Nishant Kumar Lyngdoh, Dr. C.M.Kokatanur, Dr.Ajay Pednekar. | Journal of positive school psychology,Vol.6, No.11 Page No.317-321, Nov-2022 | Nov-2022 |
| 10 | To determine the demographic profile of victims of fatal head injury in RTA | Dr. Nelson Nishant Kumar Lyngdoh, Dr. C.M.Kokatanur, Dr.Ajay Pednekar. | Journal of positive school psychology,Vol.6 No.11.Page No.322-328, Nov-2022 | Nov-2022 |
| 11 | Death penalty for rape: debate on death as a deterrent sentencing policy in india. | Dr.Nelson Nishant Kumar Lyngdoh. | Russian law journal, Vol.XI, Issue-3s,Page No.1-7, Mar-2023 | Mar-2023 |
| 12 | Human trafficking for cheap labour. | Dr. C.M.Kokatanur | Russian law journal,Vol.XI,Issu-3s,Page No.8-11, Mar-2023 | Mar-2023 |
| 13 | Medical negligence and the need for an informed public domain. | Dr. C.M.Kokatanur | Russian law journal, Vol.XI, Issue-3s,Page No.12-17, Mar-2023 | Mar-2023 |
| 14 | To evaluate abnormality in serum urea, creatinine, calcium, phosphate and vitamin d in ckd patients. | Irfan G Mulla,Dr.Nelson Nishant Kumar Lyngdoh,Prakash D Zende, Sarita Agarwal, Deepak Gundpatil, Ashok Shinde | International Journal of Medical Science and Current Research (IJMSCR) Vol.6, Issue-2, Page No. 903-909,March-April 2023 | March-April 2023 |
| 15 | Consequences of female foeticide and legal implications. | Dr.Nelson Nishant Kumar Lyngdoh | Russian law journal , Vol.XI, Issue-5s,Page No.137-140, | May-2023 |
Copyrights
| Sr. No | Name of faculty / student | No and date | Title of Copyright |
| --- | --- | --- | --- |