Radio-diagnosis

02164-241555/6/7
Head of Department :
Dr. Pramodkumar R. Shaha
Professor & Head.
About Department Of Radio-diagnosis
The Department began function in the year 1982 as integral part of the hospital with two fixed X-ray units and mobile unit to offer services. Over years in 1986 USG units were inducted. The CT scan unit was acquired in 1991 and MRI in 2007, facilities kept getting on added and upgraded over the years. Today, the department has 6 fixed X-ray units with image intensifier and 8 mobile X-ray units with computerised Radiography Units. Mammography, DSA completes the X-Ray division. There are 5 USG units with Doppler and elastography function. 16 slice Multi-detector CT and 1.5 Tesla MRI Unit complete the sonography CT and MRI divisions. The department has a PACS system with dedicated work stations with aim of filmless functioning. There is a museum depicting historical event in imaging. Over 80000 examinations are performed in a year, which include plain x-rays, special investigations mammographies, angiographies, CT studies, Neuro-radiology MRI and guided intervention procedures.There is dual functioning of the department with services to patient and undergraduate and postgraduate training programme. The teaching faculty includes 3 professors, 2 associate professors, 3 assistant professors and 5 post-graduate senior residents, who are engaged in activities of teaching and research. There are at present 28 post-graduate students registered for MD and 2 post-doctoral fellowships. The UG programme consists of 15 days SGT & 12 days LGT. The PG programme consists of seminars, case discussions, webinars, mock examinations, dissertations, short term research projects and publishing research papers. Over years, the department has trained 59 MD & 39 DMRD graduates. The Department has published 66 papers in various periodicals.
Vision
To progressively improve the quality and attain excellence at the national and global level in the field of medical imaging modern diagnostic methods and research and to produce personnel of high calibre and competence to deliver integrated health care to all strata of the community.
Mission
To incorporate and effectively implement newer technology in teaching learning and evaluation to make globally competitive, competent and confident Radiologists who will engage in ethical practice of the science and art of imaging. To inspire the sense of inquisitiveness and ignite the spirit of research in the students & the faculty.
Objectives
To Provide
Quality multi modality imaging.
Accurate and timely diagnostic information.
Outstanding education
High quality research.
To Deliver
To our technicians, under graduates, and postgraduate residents the best possible training and aim to achieve the highest levels of professional excellence.
In order to elevate the standards of Radio diagnosis and Medical education and
services to the community we are adopting following methods of newer teaching
technology:
Teaching the practice of evidence based Radiology by:-
Conducting Seminar and Journal clubs ,the digital library where the postgraduates are encourged to search the net for the evidence, critically appraise the available evidence and identify the best evidence.
- Making net search mandatory in PG teaching programs
- Making PG teaching program on power point presentation
- Incorporation of relevant video clips in the PG teaching programmers.
- Problem Solving interactive case presentation.
- Conducting regularly the CMEs , mock PG practical exam and hands on workshop are regularly.
- To promote research and encourage publication by encouraging the faculty to publish the works in indexed journals.
Important Infrastructure
Fixed X ray unit- 07 ( 300 to 800mA with II)
Mobile X ray units-10
C-Arm with IITV-05
16 Slice MDCT Emotion -16 (Siemens)- 01
Ultrasound -08
MRI 1.5 T Avanto – 01
Mammomat Select Mammography-01
Computerised Radiography System-03
Digital Radiography System-01
PACs-01
Teaching Learning Method
X-ray , CT, MRI films of Unique cases ,Since 20 yrs.
Chalk and board.
Power point presentation.
Charts, CDs of important ,unique cases.
Case demonstrations.
Use ICT methods to support Lectures.
Evaluation: Periodic tests in Theory & Practical Exam.
Team based & Evidence based learning.
HOD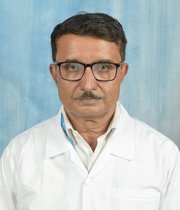 Dr. Pramodkumar R. Shaha
Professor & Head.

Tel (Office) – 02164-241555/6/7

hodradiology@kvv.edu.in
Dr. Pramodkumar R. Shaha is the Head of department since 1st March 2018 till date. He completed MBBS from B.J.M.C, Pune in 1977 & M.D. From B.J.M.C in 1982.
Staff

Dr. Ramchandra R. Kumbhar
MBBS, MD
Professor

Dr. Dinesh R. Potdar
MBBS, MD, DNB
Professor

Dr. Prakash Patil
MBBS, DMRD, DNB
Associate Professor

Dr.Asif I.Tamboli
MBBS,DNB
Associate Professor
Dr. Amol Bhoite
MBBS, DNB
Assistant Professor

Dr. Prashant Patil
MBBS, DMRD, DNB
Assistant Professor

Virendra Patil
MBBS, DMRD, DNB
Assistant Professor
Dr. Abhijeet B. Patil
MBBS, MD
Senior Resident

Dr. Kiran Ashok Kale
MBBS,MD,DNB
Senior Resident

Dr. Bhagyshree Kiran Kale
MBBS,DNB
Senior Resident

Dr. Chaitali Mohan Rasal
MBBS,MD
Senior Resident

Dr. Siddharth Bokil
MBBS,MD
Senior Resident
Courses
<PageQuerySet [<Course: M.D. Radio Diagnosis>]> []
Events, Webinar, Workshop, Conference
IPR (Intellectual Property Rights)
| Sr. No | Title of Patent | Name of Faculty | Application No. | Date |
| --- | --- | --- | --- | --- |
Publications
| Sr. No | Title of the paper | Name of the Author/s | Name of the Journal | Month of Publication |
| --- | --- | --- | --- | --- |
| 1 | Parameteric Estimation In Doppler's Effect Forecasts | Dr. Tamboli Asif | Journal of physics: conference series March 2021 | 2021 |
| 2 | Covid-19: Hrct Lung Pattern, Distribution And Severity Score With Clinico-Pathological Correlation In A Tertiary Level Institution In Rural Maharashtra". | Dr. Kumar Snehil, Dr. Bhoite A. S., | International Journal of Advances in Medicine, 30 October 2021 | 2021 |
| 3 | Choroidal Metastasis In Myriad Of Primaries – A Single Center Study In Tertiary Oncology Institute | Dr. Tamboli Asif | Ijars-international journal of anatomy radiology and surgery. (http://jcdr.org.in/) December 2021 | 2021 |
| 4 | CECT In Pulmonary Thrombolism | Dr.Pramod Shaha | Journal of pharmaceutical research international Accepted 02 December 2021 | 2021 |
| 5 | HRCT In Para-Nasal Sinuses Studies | Dr. Tamboli Asif | Uttar pradesh journal of zoology 42(24): 50-56, 2021 ISSN: 0256-971X (P) 06 December 2021 | 2021 |
| 6 | Mri In Primary Bone Tumors | Dr.H. Tejaswini, Dr.Kumbhar Ramchandra | Plant Cell Biotechnology and Molecular Biology 22(71&72):254-262; 2021 ISSN: 0972-2025 | 14 December 2021 |
| 7 | USG In Scrotal Imaging | Dr.Amol Gautam , | Uttar Pradesh Journal Of Zoology 42(24): 451-456, 2021 Issn: 0256-971x (P) 16 December 2021 | 2021 |
| 8 | Radiological Spectrum Of Sinonasal Mucormycosis In Covid Positive Patients | Kumar Snehil, Tamboli Asif I, | Neuroquantology July 2022 | 2022 |
| 9 | "When Formation Of Cerebral Vasculature Goes Aberrant? A Pictorial Essay", | Samarth Shah, Gautam Amol A. | Meical Journal Of Dr. D.Y.Patil Vidyapeeth Nov. 2022 | 2022 |
| 10 | Evaluation And Assessment Of Focal Hepatic Lesions Using Diffusion –Weighted Mri | Dr.Pramod Shaha1 | Journal Of Pharmaceutical Egative Results Volume 13 Special Issue 7 December 2022. | 2022 |
| 11 | Role Of Ultrasound Elastography In Characterization Of Focal Solid Hepatic Lesion. | Dr. Pramod Shaha | Journal Of Castal Life Medicine. Accepted 19 December 2022. | 2022 |
| 12 | Role Of Doppler Studies In Evaluation Of Adverse Perinatal Outcome. | Dr. Pramod Shaha | Journal Of Castal Life Medicine. Accepted 21 December 2022. | 2022 |
| 13 | A Cross – Sectional Study Using Mr Imaging To Evaluate Cerebral Venous Thrombosis. | Dr.. Asif Tamboli | Journal Of Castal Life Medicine. Accepted 24 December 2022. | 2022 |
| 14 | Radiological Spectrum Of Sinonasal Mucormycosis In Covid Positive Patients | Dr.Kumar Snehil Dr.. Asif Tamboli | Neuroquantologyan Interdisciplinary Journal Of Neuroscience And Quantum Physics. December 2022. | 2022 |
Copyrights
| Sr. No | Name of faculty / student | No and date | Title of Copyright |
| --- | --- | --- | --- |