Pharmacology

02164-241555/6/7
Head of Department :
Dr. Mrs.Vandana Milind Thorat
Professor & Head
About Department Of Pharmacology
Department of Pharmacology has 6 qualified (MD Pharmacology/Ph. D Pharmacology) teaching faculty. Pharmacology is the science of drugs. This subject is taught at II Phase of MBBS, BDS, BPTh courses, Ph. D Pharmacology, BSc. Perfusion, BSc. Cardiac students are also enrolled in this department.
Vision
To develop as a centre of excellence to promote rational therapeutic practices, basic and clinical research and safe use of drugs
Mission
To impart basic knowledge of drugs to medical undergraduates.
To encourage them to develop rational and ethical approach in prescribing drugs, thereby enriching foundation for good clinical practices.
To impart knowledge of National Health programs
To encourage research in Undergraduate, Postgraduate & Faculty
To prepare competent post Graduates students with sound subject knowledge, good research and teaching skills, who will accept challenges in the field of research, pharmaceutical industries and medical education.
To promote preclinical and clinical research.
To keep pace with rapidly changing trends in pharmacotherapeutics
To promote globally the rational prescribing practices.
To promote a critical approach towards drug promotion.
To promote safe and scientific use of drug in community
Objectives
To achieve excellence in Rational Pharmacotherapy, teaching and research with the ultimate goal of providing quality treatment and life in health care
Important Infrastructure
Department of Pharmacology has very specious offices, laboratories, seminar room and museum. The laboratories are equipped with all instruments and equipments required for UG, PG training and research.
Teaching Learning Method
Didactic lectures.
Self-Directed Learning (SDL)
Small Group Teaching (SGT)
Integrated teaching- Correlation, Nesting, sharing
Practicals
Students' seminars
Tutorials/Assignments
Problem Based Learning
Electives
Integrated Teaching: Linker cases
Clinical case Discussion.
Quiz
Debate
Students' Research projects
Role play
Academic / Scientific activities such as webinars, CMEs, workshops, Conferences are conducted by the department regularly
Seminar, Journal club, Case Discussion for PG students
HOD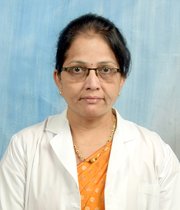 Dr. Mrs.Vandana Milind Thorat
Professor & Head

Tel (Office) – 02164-241555/6/7

hodpharmacology@kvv.edu.in
Dr.Vandana Milind Thorat is the Head of the Department of Pharmacology from 1st December 2022. She has 30 years of teaching experience and is a university recognised UG & PG teacher, examiner and guide for MD, PhD. She has completed her MBBS, MD & PhD (Pharmacology) from Krishna Institute of Medical Sciences, Karad. She has received the Best Teacher award many times throughout her career. She always believes and supports advanced technologies in teaching. She has published more than 60 national and international publications in the field of Medicine. She constantly promotes the overall development of Staff & Students by encouraging curricular & extracurricular activities.
Staff

Dr. Mrs.C.C.Khanwelkar
MBBS, MD
Professor

Dr.Mrs.S.A.Jadhav
MBBS, M.D., Ph.D.
Professor
Dr.Mrs.A.R.Shinde
MBBS,MD
Professor
Dr.Mrs.P.S.Salve
M.Sc., Ph.D.
Assistant Professor

Dr.Mrs.S. A . Surale Patil
MBBS. MD
Assistant Professor

Dr. Amulya F. Yaraguppi
MBBS,MD
Assistant Professor
Dr. P. V. Pakale
MBBS, MD
Sr. Resident

Dr.A.V.Devi
MBBS, MD
Senior Resident

Dr.N.A.Kolekar
MBBS
Tutor
Mr. D.D.Tiwari
M.Sc. Medical Pharmacology
Tutor

Dr.A.S.Shah
MBBS
Junior Resident

Dr.A.V.Chavda
MBBS
Junior Resident

Dr.Lekhika Singh
MBBS
Junior Resident

Dr.Harsh Singh
MBBS
Junior Resident

Dr.Vedant Patel
MBBS
Junior Resident

Dr.Bharti Bhambhu
MBBS
Junior Resident
Courses
<PageQuerySet [<Course: M.D. Pharmacology>, <Course: Ph. D. – Pharmacology>]> []
Events, Webinar, Workshop, Conference
Labs
MBBS (UG) Laboratory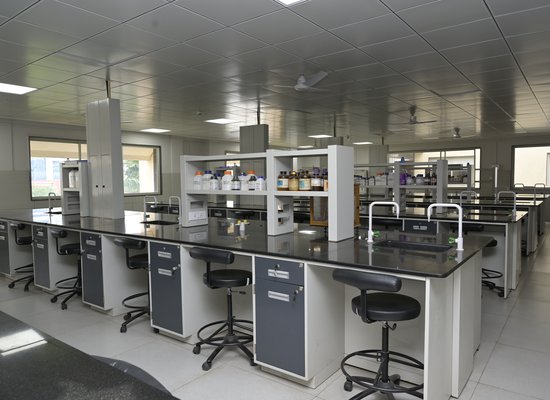 Special Drug Delivery systems like Metered Dose Inhalers, Spacers, Nasal sprays, Transdermal patches, Insulin pen etc
Simulation models for demonstration of routes of administration i.e. various injections (iv, im, sc,Intradermal), enema, vaginal pessary insertion, and other routes of drug administration.
Post Graduate Laboratory : In vivo and In vitro experiments,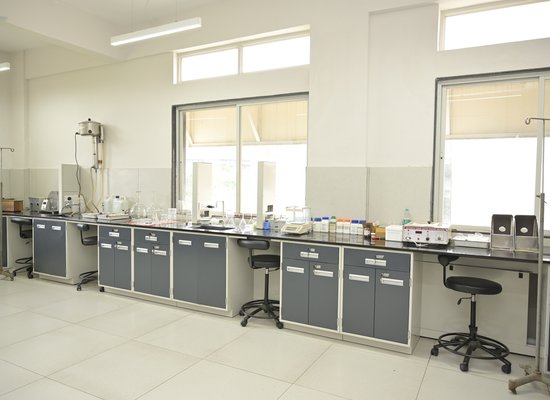 Bioassay on rat colon, analgesiometer, physiography/ polygraph, convulsiometer, plethysmograph, learning and memory, models for affective disorders etc.
Administration of drugs by various routes (subcutaneous, intravenous, intraperitoneal) in experimental animals.
Collection of blood samples and oral gavage in experimental animals.
Preparation and administration of a drug solution in appropriate strength and volume.
Experiments to show dose response curve of agonists (in the presence or absence of an antagonist) on various biological tissues, like i) Isolated rabbit/rat/ guinea-pig intestine ii) Isolated rat uterus.
Determination of EC50, ED50, pD2 and pA2 values of drugs.
Perform in vivo experiments to study effect of mydiatrics and miotics on rabbit eye.
Perform in vivo experiments to study effect of antiepileptic drugs using animal models of epilepsy.
Perform in vivo experiments to study effect of analgesics using animal models of analgesia .
Perform in vivo experiments to study effects of drugs on learning, memory and motor coordination 11. Estimate toxic drug levels using chemical and biological tests (alkaloids, glycosides, steroids, barbiturates, salicylates) by commonly used methods
Computer Assisted Learning Lab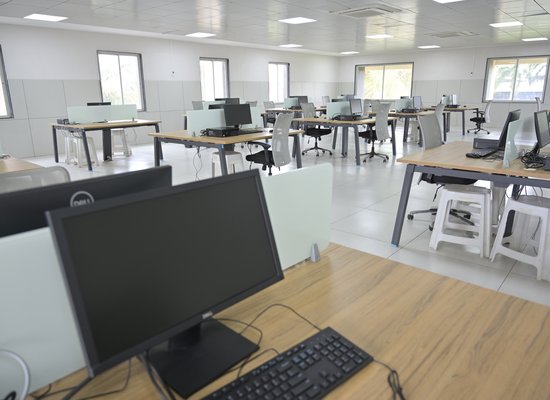 Computer Assisted Learning Lab
Have computers with standard configuration and connected to the internet
The Computers to have computer assisted teaching-learning and assessment material e.g.,
National List of Essential Medicines
Standard Treatment Guidelines
Banned Drugs List of the CDSCO
Hospital formulary
Animations/videos of mechanism of action of clinically useful drugs in humans,
Adverse Drug Reactions forms
Photographs of ADRs
Drug Promotional Literature
OSCE/OSPE station material
Self-assessment modules
E-prescription,
Digital cases
IPR (Intellectual Property Rights)
| Sr. No | Title of Patent | Name of Faculty | Application No. | Date |
| --- | --- | --- | --- | --- |
Publications
| Sr. No | Title of the paper | Name of the Author/s | Name of the Journal | Month of Publication |
| --- | --- | --- | --- | --- |
| 1 | The Study of Anti-inflammatory and Analgesic Effects of Oral Serratiopeptidasein Postoperative Patients in a Tertiary Care Hospital | C. Khanwelkar, Kartik Peethambaran, S. A. Jadhav | International Journal of Current Research and Review, Vol,13.Isuue02, January 2021 | January 2021 |
| 2 | Vitamin D Supplementation in the prevention of Recurrent Acute Respiratory Tract infections in Children Aged less than five years | S.A.Jadhav, C.C.Khanwelkar, Abhay Jadhav, Seshla Sadanandan | Journal of Medical Sciences, July 2021 Page.No. 129-133 | July 2021 |
| 3 | Primary Phytochemical Evaluation of P. Oleracea and P. Quadrifida | T.P.Durgawale, C.C.Khnawelkar, P.P.Durgawale | Journal Pharm, and Tech. 14(7) July 2021,Pag.No. 1-5 | July 2021 |
| 4 | Anti-Oxidant Potentials Of The Fruit Of Coccinia Grandis | Udugade Sb, Jadhav Sa, Doijad Rc, And Udugade Bv | International Journal of Biology, Pharmacy and Allied Sciences IJBPAS, Sept. 2021 Pag. No. 2967-2973 | Sept. 2021 |
| 5 | Antioxidant activity of Murraya koenigii leaves methanolic and aqueous extracts on oxidative stress in high fat – fructose fed rats | Rohan S. Phatak, C.C.Khnawelkar, S.M.Matule, Anup S. Hendre, Kails D. Datkhile | Pravara Med. Rev. Sept. 2021 , 13(03) 13-20 | Sept. 2021 |
| 6 | Design and Evaluation of Capecitabine Loaded Resealed Erythrocytes by Preswell and Dilution Tchniques | Mrs. Anuradha N. Chivate Dr. Pratibha S. Salve Dr. R. C. Doijad Dr. Niranjan D. Chivate | International Journal of Biology, Pharmacy and Allied Sciences Dec. 2021 | Dec. 2021 |
| 7 | Effect of Capecitabine Resealed Erythrocytes on MNU induced Heapatocarcinogenesis in swiss albino mice | Mrs. Anuradha N. Chivate Dr. Pratibha S. Salve Dr. R. C. Doijad Dr. Niranjan D. Chivate Dr. A.M.Mane | International Journal of Pharmaceutical Sciences and Nanotechnology , Page no. 5813-5821 , Volume 15, Issue 1, 28 February 2022 | 28 February 2022 |
| 8 | An evaluation of analgesic activity of leaf and stem bark of Ficus religiosa in Wistar rats. | Shilpi Mishra Sujata. A. Jadhav Chitra. C. Khanwelkar Seshla Sadanandan Prathamesh. V. Pakale Mahesh. M. Bharambe | International Journal of Health Sciences. | 09th April 2022 |
| 9 | Study of anti-inflammatory activity of aqueous and methanolic extracts of fresh rhizome of zingiber officinale in wistar rats | Prathamesh V. Pakale C.C.Khnawelkar S.A.Jadhav | International Journal of Health Sciences. | 13th April 2022 |
| 10 | Study of anti-inflammatory activity of aqueous and methanolic extracts of dry powder of zingiber officinale (sunth) in wistar rats | Prathamesh V. Pakale C.C.Khnawelkar S.A.Jadhav | International Journal of Health Sciences- under review process | 20/04/2022 |
| 11 | Acute Toxicity Study of Intravenously Administered Capecitabine Resealed Erythrocytes in Mice | Mrs. Anuradha N. Chivate Dr. Pratibha S. Salve Dr. R. C. Doijad Dr. Niranjan D. Chivate Dr. A.M.Mane | Research Journal of Pharmacy and Technology, AV publications , Page no. 5813-5821 , Volume 15, Issue 12 , | 28 February 2022 |
| 12 | Screening of Azithromycin for its anti- inflammatory potential in experimental Wistar rats | Mahesh M Bharambe, V. M. Thorat, S.M.Matule | Pravara Medical Review Journal | 01/04/2022 |
| 13 | Comparative anti-inflammatory effects of azithromycin, clarithromycin and roxithromycin using animal models of inflammation in wistar rats | Mahesh M. Bharambe, V.M.Thorat, S.M.Matule | Neuro Quantology Journal, July 2022, Volume : 20 , issue :8, Page 7355-7364 | July 2022 |
| 14 | Comparative study of Efficacy and Safety of Ondansetron and Ramosetron in Patients undergoing Hysterectomy | Dr.Sachin B Patil, Dr.Sangeeta Saymote, Dr.Bhausahab B Jankar, Dr.Anjali R.Shinde | International Journal of Pharmaceutical and Clinical Research 2023 | 2023 |
| 15 | A Comparative study of Anti-Inflammatory Effect of Thiocolchicoside, Diclofenac and Their Combinatic in wistar Rats Using Carrageenan Induced Paw Edema Method | Dr.Akash Devi, Dr.C.C.Khanwelkar, Dr.Prathamesh V. Pakale, Dr.S.A.Jadhav, Dr.Harsh Singh, Dr.Lekhika Singh | Journal of Pharmaceutical Negative Results | 3rd Feb.2023 |
| 16 | A Research Protocol of an Observational Experimental Assessment of Clinical and Pharmacologic Profile of Tyrosine Kinase Inhibitors in the Manaement Solid Cancers and Chronic Myeloid Leukemia | Mrs. Jisha Annie Geevarghese, Dr.C.C.Khanwelkar, Dr.R.C.Doijad, Dr.Rashmi Gudur | Journal of Clinical Otorhinolaryngology, Head, and Neck Surgery, 2023 | 2023 |
| 17 | Invitro Screening of Docetaxel dutasteride nanostructured lipid carriers on prostate cancer cell lines | Mr.Anup A. Patil, Dr.P.S.Salve, Dr.R.C.Doijad, Dr.A.A.Koparde | Europen Chemical Bulletin 17th March 2023 | 17th March 2023 |
| 18 | Screening of Venlafaxine for its analgesic potential in Experimental Albino mice. | Dr.Sarvaiya Darshansinh Dr.Vandana M. Thorat Dr.Chavda Akshayraj | Eur Chem Bull.2023 2063-5346 15.03.2023 | 15.03.2023 |
| 19 | Prevention of Drug Interaction in Geriatric Patients | Dr.S.A.Surle-Patil Dr.P.V.Salve Dr.Lekhika Singh Dr.Aditya Shah | Eur Chem Bull.2023 Special issue 42063-5346 | 2023 |
| 20 | Management of Diabetes using Herbal Medicine | Dr. Aditya Shah Dr.Dew Tiwari Dr.V.M.Thorat Dr.A.R.Shinde Dr.Akshayraj Chavda | Eur Chem Bull.2023 Special issue 42063-5346 | 2023 |
| 21 | Overview of Network Pharmacology | Dr. Aditya Shah Dr.S.A.Jadhav Dr.Akshayraj Chavda Dr.Harsh Singh Dr.Lekhika Singh Dr.A.R.Shinde | Eur Chem Bull.2023 Special issue 42063-5346 | 2023 |
| 22 | Assessment of self-medication practice among Medical Students:A Cross-sectional Study. | Dr.Sarvaiya Darshansinh V Dr.V.M.Thorat Dr.Akshayraj Chavda Dr.Lekhika Singh Dr. Aditya Shah Dr.Harsh Singh | Pak Heart 20.02.2023 | 20.02.2023 |
| 23 | Knowledge, Attitude & Practices of Practitioners towards Antibiotic prescription for infection prevention during Dental Procedures | Dr. Prathamesh V Pakale Dr.Bharti Bhambhu Dr.Vaghasiya Keyurkumar Dr.Akshayraj Chavda Dr.Harsh Singh Dr.C.C.Khanwelkar | Pak Heart 2023 | 2023 |
| 24 | Scope of Clinical Pharmacology in India:A Review | Dr.Lekhika Singh Dr.S.A.Surale patil Dr.P.S.Salve Dr.Harsh Singh Dr.Akshayraj Chavda Dr. Aditya Shah | Pak Heart 2023 | 2023 |
| 25 | E-Strategy for Medication:Is it really Effective? | Dr.Akshayraj Chavda Dr.V.M.Thorat Dr.Sarvaiya Darshansinh V | Pak Heart 2023 | 2023 |
| 26 | Potential Anti-Diabetic Herbs and Polyherbal Formulations: A Review | Dr.A.R.Shinde Dr.S.A.Surale patil Dr.P.S.Salve | Eur. Chem. Bull. 2023, 12, Special Issue 2 2612-2618 | 2023 |
| 27 | A summary on prophylactic antibiotics in operative patients to combat post-surgical complications | Dr.Lekhika Singh Dr.Akshayraj Chavda Dr.Akshayraj Chavda | Eur. Chem. Bull. 2023, 12, Special Issue 2 2634-2644 | 2023 |
| 28 | Significance of antibiotic therapy in post-surgical patients | Dr. Aditya Shah Dr.S.A.Surale patil Dr.Bharti Bhambhu | Eur. Chem. Bull. 2023, 12, Special Issue 2 2619-2626 | 2023 |
| 29 | Ecopharmacovigilance: A Review of Environmental Impacts of Pharmaceuticals | Dr.Lekhika Singh Dr.Akshayraj Chavda Dr. Aditya Shah | Eur. Chem. Bull. 2023, 12, Special Issue 2 2654-2661 | 2023 |
| 30 | Proton pump inhibitors | Dr. Prathamesh V Pakale Dr.Vaghasiya Keyurkumar Dr.V.M.Thorat | Eur. Chem. Bull. 2023, 12 Special Issue 4 13488-13496 | 2023, |
| 31 | Artificial intelligence in healthcare | Dr.P.S.Salve Dr. Akash Devi | Eur. Chem. Bull. 2023, 12 Special Issue 4 13481-13487 | 2023 |
| 32 | Inorganic Nanoparticles in Medical Research: A Review | Dr.S.A.Jadhav Dr.Harsh Singh Dr.Lekhika Singh | Eur. Chem. Bull. 2023, 12 Special Issue 2 2645-2653 | 2023 |
| 33 | Outcome of silver nanoparticles on human health following various routes of administration | Dr.S.A.Jadhav Dr.Harsh Singh Dr.Lekhika Singh | Eur. Chem. Bull. 2023, 12 Special Issue 2 2662-2671 | 2023 |
| 34 | Dengue Virus: A Comprehensive Review of Current Understanding and Future Perspectives | Dr.Sarvaiya Darshansinh V Dr.Vaghasiya Keyurkumar Dr. Akash Devi | Eur. Chem. Bull. 2023, 12 Special Issue 2 2679-2690 | 2023 |
| 35 | Urticaria | Dr.S.A.Surale patil Dr.P.S.Salve Dr.Bharti Bhambhu | Eur. Chem. Bull. 2023, 12 Special Issue 2 2627-2633 | 2023 |
| 36 | Current Insights into the Role of Antifibrotic Drugs in the Management of Idiopathic Pulmonary Fibrosis (IPF) | Dr.V.M.Thorat Dr.P.S.Salve Dr.S.A.Surale patil | Eur. Chem. Bull. 2023, 12 Special Issue 1 5261– 5270 | 2023 |
| 37 | Emerging treatment modalities for the management of diabetes mellitus | Dr.V.M.Thorat Dr.Akshayraj Chavda Dr. Aditya Shah | Eur. Chem. Bull. 2023, 12 Special Issue 22672-2678 | 2023 |
| 38 | Comprehensivereview on Recent Advances in Lyophilization of Nanomedicine | Rohit R.Bhosale Dhanashri D.Chavan Amol S.Shete | Indo Americal Journal of Pharmaceutical Research ISSN No:2231-6876 | 2023 |
| 39 | A Review on Anti-Cancer Potential of Herbal Drugs | Rohit R. Bhosale, Dhanashri D. Chavan, Vandana M. Thorat , Amol S. Shete3 | International Journal of Pharmacognosy and Phytochemical Research 2023; 15(1); 1-9 eISSN: 0975-4873, pISSN: 2961-6069 | 2023 |
| 40 | An overview on cell-based therapy: Unique perspective for cancer management | Rohit R. Bhosale , Dhanashri D. Chavan , Vandana M. Thorat | Asian Journal of Pharmacy & Pharmacology. 2455-2674 | 2023 |
| 41 | Assessment of Phosphodiesterase Inhibitors in Alzheimer's Disease Experimental Models | Dr. A. V. Chavda Dr. V. M. Thorat Dr. D.V. Sarvaiya | Journal of Coastal life Medicine JCLMM 1/11 (2023) |2795–2804 | 2023 |
| 42 | Effects of Thiazolidinedione DPP 4 Inhibitor Monotherapy and Combination Therapy with Berberine in Streptozotocin-Induced Diabetic Osteopathy | Dr. Devkumar Tivari Dr. P. V. Pakale Dr. V. M. Thorat | Journal of Coastal life Medicine JCLMM 1/11 (2023) |2826–2833 | 2023 |
| 43 | Study on a Novel Biomarker in People with Type 2 Diabetes Who Have Cardiac Autonomic Neuropathy | Dr. K.M. Vaghasiya Dr. D.V. Sarvaiya Dr.P.S Salve | Journal of Coastal life Medicine JCLMM 1/11 (2023) |2834–2842 | 2023 |
| 44 | Assessment of Stress and Related Biochemical Alterations in Type 2 Diabetes Mellitus and Obesity Patients | Dr.S.A.Jadhav Dr.A.R.Shinde Dr.S A Surale-Patil | Journal of Coastal life Medicine JCLMM 1/11 (2023) |2805–2817 | 2023 |
| 45 | Effect and Potential Mechanism of First-Line Oral Antitubercular Therapy Safety and Effectiveness with Adjuvant Drugs | Dr.V.M.Thorat Dr. D.V. Sarvaiya Dr. Akash Devi | Journal of Coastal life Medicine JCLMM 1/11 (2023) |2818–2825 | 2023 |
| 46 | Effect of withania somnifera (ashwagandha) on liver function parameters in mdd (major depressive disorder) patients taking sertraline. | Dr. Vaghasiya keyurkumar M., Dr. Sujata jadhav, Dr. Ajish mangot, Dr. Chitra khanwelkar, Dr. Aditya shah | Journal of population therapeutics & clinical pharmacology | 2023 |
| 47 | A Study on a Novel Biomarker in People with type 2 Diabetes who have cardiac Autonomic Neuropathy | Dr.K.M.Vaghasiya, Dr.D.V.Sarvaiya, Dr.P.S.Salve | JCLMM 1/11 (2023) 2834–2842 | 2023 |
Copyrights
| Sr. No | Name of faculty / student | No and date | Title of Copyright |
| --- | --- | --- | --- |
Mueseums
Museum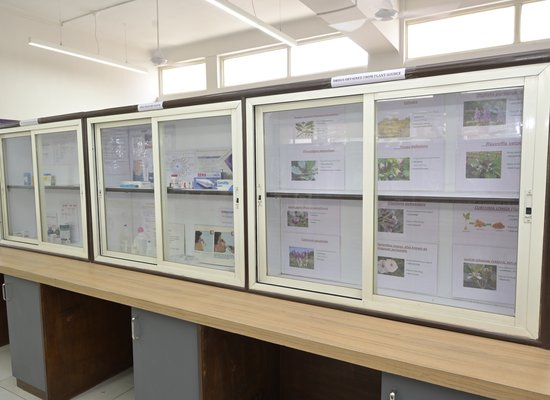 History of Pharmacology Charts - 12
Charts of Medicines - 11
Medicinal Plants Photos -14
Placards - 65
Medicines Samples – more than 250
Dosage Forms - 61
Devices - 12
Models - 6
Manikins - 3