Ophthalmology

02164-241555/6/7
Head of Department :
Dr.V.H.Karambelkar
Professor & Head
About Department Of Ophthalmology
Vision
Promote excellence and competence with constant up keep of knowledge and pursuit of advancement in Ophthalmology.
Mission
To incorporate and effectively implement newer technologies in teaching, learning and evaluation ; to produce globally competent and confident doctors, who will do ethic practice of Ophthalmology. To inspirer the students and the faculty for various researches and to promote the activity including research.
Objectives
To promote teaching and learning of Basics of Ophthalmology so as to enable the
students to optimally manage common conditions met in Ophthalmological practice.
To produce competent Ophthalmologists
To provide quality & advanced medical and surgical care to patients at affordable costs
PG Course Objectives:
At the end of the M.S. course in Ophthalmology, the student should be able to
- Recognize the key importance of ocular health in the context of the health priority of the country;
- Practice the speciality of Opthalmology in keeping with the principles of professional ethics;
- Identify social, economic, environmental, biological and emotional determinants of patients and institute diagnostic, therapeutic, rehabilitative, preventive and promotive measures to provide holistic care to the patients;
- Recognize the importance of growth and development as the foundation of Ophthalmolgy; and help each patient realize her/his optimal potential in this regard;
- Take detailed history, perform full ocular examination including anterior and posterior segment of eye and neuro ophthalmology and make clinical diagnosis;
- Perform relevant investigative and therapeutic procedures for the patient;
- Interpret important imaging and laboratory results;
- Diagnose ocular ailment on the analysis of history, ocular examination and investigative work up;
- Plan and advise measures for the prevention of eye diseases and visual disability.
- Carryout common surgical procedures independently.
- Plan rehabilitation of patients suffering from ocular illness and handicap, and those with special needs;
- Manage ocular emergencies efficiently;
- Recognize the emotional and behavioral characteristics of visually disabled patient and keep these fundamental attributes in focus while dealing with them;
- Demonstrate communication skills of a high order in explaining management and prognosis, providing counseling and giving health education messages to patients, families and communities;
- Develop skills as a self-directed learner, recognize continuing educational needs; use appropriate learning resources, and critically analyze relevant published literature in order to practice evidence-based ophthalmology;
- Demonstrate competence in basic concepts of research methodology and epidemiology;
- Facilitate learning of medical/nursing students, practicing physicians, paramedical health workers and other providers as a teacher-trainer;
- Play the assigned role in the implementation of National Programs For Control of Blindness, effectively and responsibly;
- Function as a productive member of a team engaged in eye care, research and education.
Important Infrastructure
Equipment
Numbers / functional status /
comments
1.       
Slit Lamp Biomicroscope with Teaching Aid
3+1(Photo Slite lamp) / functional
2.       Autorefractometer
(Preferably with Keratometer)
1 / functional
3.       Goldmann's
Applanation Tonometer
1/ functional
4.      Schiotz
Tonometer
2/ functional
5.       Trial
Frame and Refraction Sets
3/ functional
6.      Nd:Yag
Laser Machine with Abraham Lenses
2/ functional (1+1
)Green laser
7.       Streak
Retinoscope
4/ functional
8.      Non-Contact
Tonometer (NCT)
1/
functional
9.      90D,
78D (Along With Slit Lamp)
3/
functional
10.    Lensometer
1/
functional
11.     Operating
Microscope(for Minor OT in OPD)
12.    Perkin's
Tonometer
1
functional
13.    Any
other equipment
Funds camera
OCT
Slit lamp camera
Ultrasonography Machine- A Scan
                                            
B scan
Indirect Ophthalmoscope
Goniolens
Non Contact Tonometer
Auto Perimeter – Octopus
Contact lense set
Synoptophore
1/
functional
1/
functional
1/
functional
1/
functional
1/
functional
8/
functional
5/
functional
1/
functional
1
/ functional
1
1
Teaching Learning Method
- Interactive large group teaching
- Small group teaching
- CME's, Seminar, Workshop, Conference etc.
- Monthly video conferencing sessions with Johns Hopkins University, Baltimore, (Global Grand Rounds in Infectious Disease (GGRID)
- LGT, SGT, PBL, SDL, Narration, reflective learning, CBL, OMP, EBM,Integrated teaching, Role play etc additional teaching program for potential learnersEmphasis on Collaborative research, ICMR research projects, Dissertation and log book MiniCex
- For post graduate sending them to higher centers of excellence
HOD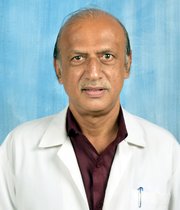 Dr.V.H.Karambelkar
Professor & Head

Tel (Office) – 02164-241555/6/7

hodophthalmology@kvv.edu.in
Dr.V.H.Karambelkar, is Professor & Head of Department of Ophthalmology since 2018. He has completed his M.B.B.S in 1982 & M.S(Ophthalmology) in 1986 from Dr.VMMC, Solapur. He has cumulative teaching experience for 24 years. He is recognized PG teacher from January 2007. • UG and PG examiner for last 15 years. • Member of Maharashtra Ophthalmic Society. • Member of All India Ophthalmic Society. • PG paper assessor in state conferences. • Guest speaker in the state and out of state Medical Institutes. • Five times favourite teacher award in last 10 years. • Rendering free services at Chaitanya Rugnalay, Gondawale for last 25 years • Number of Research articles in Indexed Journals - 35
Staff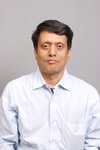 Dr. B. S. Joshi
MBBS, MS, DNB
Associate Professor

Dr. Girish Arun Gadre
MBBS, MS
Associate Professor

Dr. Anjali Patil
MBBS,MS
Associate Professor

Dr. Gaurav Paranjpe
MBBS, MS
Assistant Professor

Dr. D. B. Shirke
MBBS,MS
Assistant Professor

Dr. Sanvedya Kadam
MBBS, MS
Assistant Professor

Dr. Prajakta Patil
MBBS,D.N.B
Assistant Professor

Dr. Sonali Chabukswar
MBBS,MS
Assistant Professor

Dr. Renuka Sarwate
MBBS,MS
Senior Resident

Dr. Mangesh Shelke
MBBS, DO, DNB
Senior Resident

Dr.Rohit Kundap
MBBS,MS
Senior Resident

Dr.Rutuja Khot
MBBS, D.O. D.N.B.
Senior Resident
Courses
<PageQuerySet [<Course: M.S. Ophthalmology>, <Course: Fellowship in Vitreo-Retinal surgery>, <Course: Ph.D. – Ophthalmology>]> []
Events, Webinar, Workshop, Conference
IPR (Intellectual Property Rights)
| Sr. No | Title of Patent | Name of Faculty | Application No. | Date |
| --- | --- | --- | --- | --- |
Publications
| Sr. No | Title of the paper | Name of the Author/s | Name of the Journal | Month of Publication |
| --- | --- | --- | --- | --- |
Copyrights
| Sr. No | Name of faculty / student | No and date | Title of Copyright |
| --- | --- | --- | --- |