Anaesthesiology

02164-241555/6/7
Head of Department :
Dr.V.K. Dhulkhed
Professor & Head.
About Department Of Anaesthesiology
Introduction of Department / faculty : Department was established in July 1982.P.G. Courses (D.A and M.D) were started in 1992 by Shivaji university, Kolhapur.
Vision
A culture of excellence in anaesthesia clinical practice and programs, research and education.
Mission
To deliver anaesthesia services through up to date clinical care based on the latest evidence (Research) and knowledge (Education) with humane and compassionate approach.
Objectives
For UG Teaching:
To create awareness regarding the importance of anaesthesia as a specialty and to modify the curriculum and making it more interesting so that they understand the basic concepts of anaesthesia and techniques develops interest in the subject and willingly choose anaesthesia for P.G. career.
For PG Teaching
To train the PG students in such a way so as to make them competent anaesthesiologist with sound theoretical knowledge and its skilful application in practice.
In Decision making
Proper Choice of anaesthesia techniques, equipment's and drugs.
To make them experts in all kinds of anaesthetic techniques, management of all types of patients and surgeries.
Train them in resuscitation techniques.
Important Infrastructure
All types of Monitors, Anaesthesia Machines, Cardiac defibrillator with pacemaker, transesophageal echocardiography al enable echo and ultrasonography machine.
Teaching Learning Method
Case Presentations, Seminars, Journal Clubs, Tutorial, Group Discussions, Guest Lectures, CME, Webinars, Conferences etc.
HOD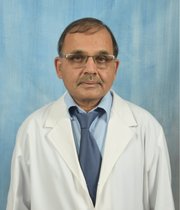 Dr.V.K. Dhulkhed
Professor & Head.

Tel (Office) – 02164-241555/6/7

hodanesthesia@kvv.edu.in
More than 34 years of teaching experience. MD degree from reputed Tata Memorial Cancer Institute, Mumbai University in 1984. Previously head of the department in KLE University, Belgaum. He was in charge Professor Cardiac Anaesthesia in the KLES Heart Foundation Instrumental in starting course like PDCC and Fellowship in cardiac Anaesthesia. More than 40 National and International Publications. He has innovation, and an innovator in patent applications Awards to his credit in the field of Anaesthesia. He is on the editorial Board of IJA
Staff

Dr.P.B.Jamale
MBBS, MD
Professor

Dr.Mrs.N.V.Kanase
MBBS, DA, MD
Professor

Dr.V.S.Kapurkar
MBBS,MD
Associate Professor

Dr.V.M.Joshi
MBBS, MD
Associate Professor

Dr.Mrs. Kunda Dimble
MBBS. MD
Associate Professor

Dr.Mrs.Soudamini Gandhi
MBBS, MD
Assistant Professor

Dr.P.B.Patil
MBBS,MD
Assistant Professor
Dr.R.M.Mulla
MBBS, MD
Assistant Professor

Dr. Amruta Hippalgaonkar (Bokil)
MBBS,MD
Assistant Professor

Dr. Maya Kamalakar
MBBS, MD
Assistant Professor

Dr. Sushant Mane
MBBS,MD
Assistant Professor

Dr. Aditya Khot
MBBS,MD
Assistant Professor
Courses
<PageQuerySet [<Course: M.D. Anesthesia>, <Course: Fellowship in Cardiovascular Anesthesia>]> []
Events, Webinar, Workshop, Conference
IPR (Intellectual Property Rights)
| Sr. No | Title of Patent | Name of Faculty | Application No. | Date |
| --- | --- | --- | --- | --- |
Publications
| Sr. No | Title of the paper | Name of the Author/s | Name of the Journal | Month of Publication |
| --- | --- | --- | --- | --- |
| 1 | Assessment of side effects of spinal anesthesia and general anesthesia in cesarean section | Dr. Shraddha Naik1, Dr. Mrs.N.V.Kanase2, Dr. Namrata Patil3. | Pak Heart J 2023:56(01). ISSN: 0048-2706 (Print), ISSN: 2227-9199 (Online) | 2023 |
| 2 | Assessment of supraclavicular brachial plexus block with clonidine as adjuvant in upper limb surgery | Dr. S.M.Gandhi1, Dr. Ajay Anand VA2, Dr. Kunda Dimble3 | Pak Heart J 2023:56(01) ISSN: 0048-2706 (Print), ISSN: 2227-9199 (Online) | 2023 |
| 3 | To compare and contrast the recovery profiles of various anesthetic techniques used in ambulatory anorectic surgery. | Dr. Aditya Khot1, Dr. V.S.Kapurkar2, Dr. Jayanth MS3 | Pak Heart J 2023:56(02). ISSN: 0048-2706 (Print), ISSN: 2227-9199 (Online) | 2023 |
| 4 | Comparison of post-operative pain relief following use of spinal anesthesia and general anesthesia for patients undergoing laparoscopic Cholecystectomy | Dr. K.S.Dimble1, Dr. P.B.Patil2, Dr. Amruta Bokil3 | Pak Heart J 2023:56. (02)ISSN: 0048-2706 (Print), ISSN: 2227-9199 (Online) | 2023 |
| 5 | Assessment of hemodynamic changes and complication occurring with Propofol and Etomidate during general anaesthesia. Dr. Sushant Mane1, Dr. Shraddha Naik2, Dr.Maya Kamalakar3 | Dr. Sushant Mane1, Dr. Shraddha Naik2, Dr.Maya Kamalakar3 | Pak Heart J 2023:56 (02)ISSN: 0048-2706 (Print), ISSN: 2227-9199 (Online) | 2023 |
| 6 | Spinal anesthesia versus general anesthesia in cesarean section | Dr. V.M.Joshi1, Dr. P.B.Jamale2, Dr. Mrs. S.M.Gandhi3 | Pak Heart J 2023:56 ISSN: 0048-2706 (Print), ISSN: 2227-9199 (Online) | 2023 |
| 7 | Comparison of Desflurane and Sevoflurane for recovery profile and airway responses | Dr. V.S.Kapurkar1, Dr. Sushant Mane2, Dr. Resmy John V.3 | Pak Heart J 2023:56(02)ISSN: 0048-2706 (Print), ISSN: 2227-9199 (Online) | 2023 |
| 8 | To study the effectiveness comparison of general anaesthesia and spinal anaesthesia for laparoscopic cholecystectomy | Dr. Mrs.N.V.Kanase1, Dr. Vijay V Katti2, Dr. Smith Varghese3 | Pak Heart J 2023 ISSN: 0048-2706 (Print), ISSN: 2227-9199 (Online):56(02) ISSN: 0048-2706 (Print), ISSN: 2227-9199 (Online) | 2023 |
| 9 | Comparison of magnesium sulphate and fentanyl as an adjuvant to ropivacaine in intravenous regional anaesthesia for upper extremity surgeries – A prospective randomised double blind clinical study. | Dr.Ratthinam PL¹, Dr .Kanase NV² , Dr. Dhulkhed VK³ , Dr. Karuppiah R⁴ | Eur. Chem. Bull. 2023, 12(Special Issue 1), 2731-2744. | 2023 |
| 10 | A Comparative study between Analgesic Efficacy of Levobupivacaine and Buprenorphine v/s Levobupivacaine and Dexamethasone in Transversus Abdominis Plane block following a Caesarian Delivery. | 1Vishad Devang Shah, 2Shraddha Naik Bahulekar, 3Dhirajkumar A. Mane. | Journal of Pharmaceutical Negative Results ¦ Volume 13 ¦ Special Issue 1 ¦ 2022. | 2022 |
| 11 | Case Report: 1 Krishna Institute of Medical Scien 16AP02-05 When 0.2% incidence became a reality in non-operating room anaesthesia (NORA): a rare case of left anterior descending artery perforation in cardiac catheterization lab. | R. John Varghese1, V. Dhulkhed1, S. Madanaik1, S. Saju Varghese1, A. V. Anand1 | European Journal of Anaesthesiology. Volume 39 | e-Supplement 60 | June 2022. Page No. 311 | 2022 |
| 12 | Case Report: SUCCESSFUL OUTCOME OF SPINAL ANAESTHESIA IN A PATIENT WITH A HISTORY OF SCORPION STING AND FAILED SPINAL ANAESTHESIA | Dr. Resmy J. Dr. V.K.Dhulkhed. | Reg Anesth Pain Med: first published as 10.1136/rapm-2022-ESRA.262 on 11 August 2022 | 2022 |
| 13 | Comparison of the efficacy of bupivacaine versus levobupivacaine in supraclavicular brachial plexus blockA prospective observational study | 1Dr. Naseema V Kanase, 2Dr Kunda Shirish Dimble, 3Dr Saudamini Mahendra Gandhi, | Neuro Quantology | Jul 2022 | Volume 20 | Issue 7 | Page 346-351 | doi: 10.14704/nq.2022.20.7.NQ33041 | 2022 |
| 14 | Assessment of complications of general anesthesia in patients undergoing surgical procedures, | 1Dr. Rahim Musa Mulla, 2Dr Kunda Shirish Dimble, 3Dr Naseema V Kanase, | Neuro Quantology | Jul 2022 | Volume 20 | Issue 7 | Page 360-364 | doi: 10.14704/nq.2022.20.7.NQ33043 | 2022 |
| 15 | Intrathecal dexmedetomidine and meperidine for postspinal shivering in patients undergoing | 1Dr. Rahim Musa Mulla, 2Dr Naseema V Kanase, 3Dr Saudamini Mahendra Gandhi | Neuro Quantology | Jul 2022 | Volume 20 | Issue 7 | Page 375-379 | doi: 10.14704/nq.2022.20.7.NQ33046 | 2022 |
| 16 | Effect of budesonide suspension on occurrence of POST in surgical patients following endotracheal intubation | 1Dr.Mrs.N.V. Kanase, 2Dr.Vishwas Manohar Joshi, 3Dr. Maya Kamalakar | Neuro Quantology | Jul 2022 | Volume 20 | Issue 7 | Page 380-383 | doi: 10.14704/nq.2022.20.7.NQ33047 | 2022 |
| 17 | Comparative evaluation of dexmedetomidine and nitroglycerine for controlled hypotensive anaesthesia elective spine surgeries- A randomized controlled study | 1Dr Saudamini Mahendra Gandhi, 2Dr Naseema V Kanase, 3Dr Kunda Shirish Dimble | Neuro Quantology | Jul 2022 | Volume 20 | Issue 7 | Page 352-359 | doi: 10.14704/nq.2022.20.7.NQ33042 | 2022 |
| 18 | Role of dexmedetomidine in improvement of the analgesic profile of thoracic paravertebral block in thoracic surgeries | 1Dr. Soudamini Gandhi, 2Dr.Pavan Vithal Dhulkhed, 3Dr.Vishwas Manohar Joshi | Neuro Quantology | Jul 2022 | Volume 20 | Issue 7 | Page 371-374 | doi: 10.14704/nq.2022.20.7.NQ33045 | 2022 |
| 19 | Effect of dexmedetomidine by nebulizer for blunting stress response to direct laryngoscopy and intubation | 1Dr Kunda Shirish Dimble, 2Dr Naseema V Kanase, 3Dr Saudamini Mahendra Gandhi | Neuro Quantology | Jul 2022 | Volume 20 | Issue 7 | Page 340-345 | doi: 10.14704/nq.2022.20.7.NQ33040 | 2022 |
| 20 | Anatomical variations of frontal sinuses on computed tomography and their surgical importance. | Ganesh Vihapure., Maya Kamlakar., Kaenat Ahmed., Y L Sravya and Samiksha Karna | International Journal of Recent Scientific Research Vol. 13, Issue, 01 (A), pp. 1-4, January, 2022 ISSN: 0976-3031 | 2022 |
| 21 | Assessment of maternal and anaesthesia-related risk factors and incidence of spinal anaesthesia-induced hypotension in elective caesarean section | 1Dr. Maya Kamalakar, 2Dr.Mrs. Kunda Dimble, 3Dr.Pavan Vithal Dhulkhed | Neuro Quantology | Jul 2022 | Volume 20 | Issue 7 | Page 365-370 | doi: 10.14704/nq.2022.20.7.NQ33044 | 2022 |
| 22 | Effect of budesonide suspension on occurrence of POST in surgical patients following endotracheal intubation | 1Dr.Mrs.N.V. Kanase, 2Dr.Vishwas Manohar Joshi, 3Dr. Maya Kamalakar | Neuro Quantology | Jul 2022 | Volume 20 | Issue 7 | Page 380-383 | doi: 10.14704/nq.2022.20.7.NQ33047 | 2022 |
| 23 | Comparative study of isobaric ropivacaine 0.5% with dexmedetomidine and 0.5% ropivacaine alone in spinal anaesthesia in lower limb and perineal surgeries. | Dr. PB Jamale1, Dr. Anand Prasoon1, Amruta Hippalgaonkar1, , Dr. Avinash Bhosale1, Dr. Dhanashree Kale 1. Dr. Kunda Dimble 1, Dr. V.M.Joshi | Uttar Pradesh Journal of Zoology. Jamale et al; UPJOZ. 42 (1): 12 – 15, 4th February 2021. | 2021 |
| 24 | A comparison of epidural butorphanol and fentanyl for postoperative analgesia using combined spinal epidural anaesthesia technique | Dr. PB Jamale1, Dr. Siddharth Sharma1, Archana Gautam1, Dr. Dhanashree Kale 1, Dr. Amruta Hippalgaonkar | Uttar Pradesh Journal of Zoology. Jamale et al; UPJOZ. 41 (24): 50 – 55, 28th January 2021. | 2021 |
| 25 | Comparative study of 0.5% bupivacaine and 0.5% bupivacaine with dexmedetomidine for spinal anaesthesia. | Dr. Naseema Kanase1, Dr. Naveen Kumar1, Dr Archana Gautam1, Dr. S.A. Pingale1, Dr. Avinash Bhosale1, Dr. Saudamini Gandhi1 | Uttar Pradesh Journal of Zoology. Kanase et al: UPJOZ. 41 (23): 141-145, 19th January 2021. | 2021 |
| 26 | Dexmedetomidine as an Adjuvant to Bupivacaine for Spinal Anaesthesia in Intrathecal Versus Intravenous dexmeditomidine Lower Limb Orthopaedic Surgeries. Kanase et al. | Dr. Naseema Kanase1, Dr.Juber Ahmed1, Dr. Shraddha Naik1, Dr. Archana Gautam1, Dr. Dhanashree Kale1, Dr. R.M. Mulla and Dr. P.B.Patil1, | Uttar Pradesh Journal of Zoology. UPJOZ. 41 (24): 71-75, 28th January 2021. | 2021 |
| 27 | Comparative evaluation of analgesia of nebulised fentanyl (4mcg/kg) with intravenous fentanyl (1mcg/kg) for post-operative pain relief in abdominal surgeries. | Dr. V. K.Dhulkhed1, Dr. Viraj Mohite1, Dr. Dhanashree Kale1, Dr. Avinash Bhosale1, Dr. R.M.Mulla1, Dr. Amruta Hippalgaonkar1 | Uttar Pradesh Journal of Zoology. Dhulkhed et al: UPJOZ. 41 (23): 124-127, 15th January 2021. | 2021 |
| 28 | Comparing 7.5 mg of 0.5% hyperbaric bupivacaine and 25 mcg of fentanyl mixture to 10 mg of 0.5% hyperbaric bupivacaine in sub arachnoid block for caesarean section | Dhulkhed | Uttar Pradesh Journal of Zoology. et al: UPJOZ. 41 (23): 124-127, 11th February 2021. | 2021 |
| 29 | Comparison of dexmedetomidine and clonidine as an adjuvant to bupivacaine in supraclavicular brachial plexus block. | Dr. V. K.Dhulkhed1, Dr. Hemant Singh1, Dr. Avinash Bhosale1, Dr. R.M.Mulla1, Dr. Amruta Hippalgaonkar1 | Uttar Pradesh Journal of Zoology. Dhulkhed et al: UPJOZ. 41 (23): 12-15, 23th January 2021. | 2021 |
Copyrights
| Sr. No | Name of faculty / student | No and date | Title of Copyright |
| --- | --- | --- | --- |