Prosthodontics and Crown & Bridge

02164-241555/6/7
Head of Department :
Dr. Pronob Kumar Sanyal
Professor & Head.
About Department Of Prosthodontics and Crown & Bridge
Department Of Prosthodontics and Crown & Bridge Imparting Programs for BDS, MDS and Ph.D. Provides Tertiary Prosthodontic Care to patient of western Maharashtra and beyond.
Vision
To emerge as a center of excellence for collaborative research, continuous training and superlative patient treatment needs.
Mission
To provide high quality accessible, affordable advanced tertiary dental care to patients, innovative and collaborative research and high grade teaching facilities for National Development.
To provide continuous high quality Value Based Education, training and research facilities to students and advanced prosthodontic care to patients.
To provide research laboratory facilities, latest technologies and techniques, advanced equipment's and competent faculty for quest of excellence and consultancy.
Objectives
Prosthodontics is the speciality of dentistry pertaining to rehabilitation of oral health of people with missing teeth or oral and facial structures. Prosthesis refers to any artificial substitute used for replacement of missing teeth or oro-facial structures. This branch of dentistry is a unique blend of science, art and creativity and aims at restoring the patient's oral health to as normal and natural as possible.
Important Infrastructure
Department of Prosthodontics is well equipped with all the required instruments and equipements as per the DCI requirements. The department also has various modern equipments as Ceramic furnace, Stereomicroscope, Advanced Soldering unit, maxillofacial material unit, well equipped Implant unit and many more.
Teaching Learning Method
Lectures
Seminars and Tutorials
Inter-disciplinary seminars
Group discussions
Clinical and pre-clinical leaning
Integrated Teaching
Peer Teaching
Laboratory and practical learning
Project based learning
Problem based Learning
OSPE/OSCE
e-learning
Research Methodology
Open book tests
Quiz
HOD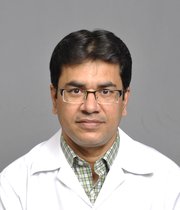 Dr. Pronob Kumar Sanyal
Professor & Head.

Tel (Office) – 02164-241555/6/7

deansds@kvv.edu.in
Dr.Pronob Kumar Sanyal is currently working as a Professor & HOD, Department of Prosthodontics and Crown & Bridge, School of Dental Sciences, KVV( Deemed to be University ) Karad, Maharashtra, India. Total Teaching Experience of 26 years. Areas of Interested lab Technologies; Cast Partial Prosthesis; Bio Functional Prosthetic System.
Staff

Dr. Ajay Gaikwad
BDS, MDS
Professor

Dr. Shivsagar Tewary
BDS, MDS,PhD
Associate Professor

Dr. Shubha Joshi
BDS, MDS, PhD
Associate Professor

Dr. Sushma . R
BDS, MDS
Associate Professor

Dr. Abhijeet Kore
BDS, MDS
Associate Professor

Dr. Karuna Pawashe
BDS,MDS
Assistant Professor

Dr. Amit Jadhav
BDS, MDS
Assistant Professor

Dr.Aaditee Vande
BDS, MDS
Assistant Professor

Dr.Ranjeet Ghadge
BDS,MDS
Assistant Professor

Dr.Mayura Sanas
BDS,MDS
Assistant Professor

Dr.Prashant Varude
BDS, MDS
Assistant Professor
Events, Webinar, Workshop, Conference
IPR (Intellectual Property Rights)
| Sr. No | Title of Patent | Name of Faculty | Application No. | Date |
| --- | --- | --- | --- | --- |
Publications
| Sr. No | Title of the paper | Name of the Author/s | Name of the Journal | Month of Publication |
| --- | --- | --- | --- | --- |
Copyrights
| Sr. No | Name of faculty / student | No and date | Title of Copyright |
| --- | --- | --- | --- |