Paedodontics and Preventive Dentistry

02164-241555/6/7
Head of Department :
Dr. Shashikiran ND
Professor & Head
About Department Of Paedodontics and Preventive Dentistry
Pediatric dentistry is an age-defined especially that provides both primary and
comprehensive, preventive and therapeutic oral health care for infants and children
through adolescence, including those with special health care needs. Department of
Pediatric and Preventive Dentistry Imparting Programs for BDS, MDS and Ph.D.
Vision
To deliver high quality dental treatment to the needful & specially abled children and guide the speciality to higher limits by amalgamation of innovations, technology and community services into the academic curriculum
Mission
We thrive to be the premier academic hub promoting excellence in dental education, research, oral health care and community services to improve the overall health of the younger population who forms the base of the society.
Objectives
Provide accessible and affordable dental care to the underprivileged people of western Maharashtra
Provide quality education to the students
To mold students as good researchers/clinicians.
To raise awareness of Pedodontic treatment among the rural population of western Maharashtra.
To teach behavior management of children to students, thus enabling them to tackle uncooperative children in dental clinic.
To provide complete dental care for children with special health care needs.
Important Infrastructure
Department of Paedodontics and Preventive Dentistry is well decorated with wall paintings to have a child friendly environment. The department is equipped with high quality dental chairs, conscious sedation unit, a separate Seminar room for presentations by students. Preclinical area for practicing patient work on mannequins, department library with speciality books and journals of all important titles.
Teaching Learning Method
Lectures
Case Discussions
OSCE
PBL
CBL
HOD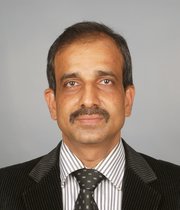 Dr. Shashikiran ND
Professor & Head

Tel (Office) – 02164-241555/6/7

deansds@kvv.edu.in
Dr. Shashikiran ND, an insightful clinician, experienced Paedodontist, keen academician, is known for his sincerity, innovation and a thirst for perfection. He pursued his Bachelor of Dental surgery from Bapuji Dental College and Hospital, Karnataka in 1989 and Master in Dental surgery in Paedodontics and Preventive Dentistry in 1992. Presently he is working as Dean, Professor and H.O.D., Department of Paedodontics and Preventive Dentistry, School of Dental Sciences, KIMSDU, Karad.
Staff

Dr. Sachin Gugwad
BDS, MDS
Professor

Dr. Namrata Gaonkar
BDS, MDS
Associate Professor
Dr. Swapnil Taur
BDS, MDS
Associate Professor

Dr. Savita Hadakar
BDS, MDS
Associate Professor

Dr. Sonali Waghmode
BDS, MDS
Assistant Professor

Dr. Ankita Maurya
BDS,MDS
Assistant Professor
Dr. Gouri Reddy
BDS, MDS
Assistant Professor

Dr. Vaishakhi Kamat
BDS, MDS
Assistant Professor

Dr. Prathamesh Nikam
BDS,MDS
Assistant Professor
Events, Webinar, Workshop, Conference
IPR (Intellectual Property Rights)
| Sr. No | Title of Patent | Name of Faculty | Application No. | Date |
| --- | --- | --- | --- | --- |
Publications
| Sr. No | Title of the paper | Name of the Author/s | Name of the Journal | Month of Publication |
| --- | --- | --- | --- | --- |
Copyrights
| Sr. No | Name of faculty / student | No and date | Title of Copyright |
| --- | --- | --- | --- |