Department Of Orthodontics and Dentofacial Orthopaedics

02164-241555/6/7
Head of Department :
Dr. Chanamallappa Ganiger
Professor & Head.
About Department Of Department Of Orthodontics and Dentofacial Orthopaedics
To impart quality education pertaining to various treatment modalities in
ORTHODONTIA.
To impart theoretical and practical training to interns.
To train the students to diagnose and treat various cases.
To train students in preparation of active and retentive removable and
Myofunctional appliances
Vision
To provide the under graduate and post graduate students about orthodontic training, research and advanced patient treatment needs.
To provide comprehensive smile enhancement treatment accessible for rural population
To provide thorough knowledge about the various removable and fixed appliances
Patient care through invisible orthodontics including aligners.
Total esthetic rehabilitation of cleft patients
Mission
shall prepare competent and compassionate orthodontics professionals with sound
knowledge and excellent skill through quality education based on competency model
that inculcates scientific temper, moral and ethical values.
Department shall foster inter-disciplinary research that will generate meaningful
outcomes for the community and nation.
It shall provide quality health care to the rural and needy using holistic approach
for the development of the community .
Department shall provide high quality accessible, affordable advanced tertiary
dental care to patients.
Objectives
To facilitate high quality accessible, affordable advanced orthodontic care to patients.
To promote high quality education, training and research facilities to students.
To achieve proper esthetic stability, structural balance and functional efficiency.
Important Infrastructure
Department of Orthodontics and Dentofacial Orthopedics is well equipped with all the
required instruments and equipments as per the DCI requirements. The department also
has various modern Undergraduate section for undergraduate teaching
 Post graduate section for patient
 Well furnished seminar room
 Well equipped photography room
 Preclinical lab for under graduate & post graduates
 Separate cabin for HOD
 Separate cabin for Professors
 Separate cabin for Associate Professor, Assistant Professors
 Separate space for PG Common room
 Well equipped sterilization room, ( top loading Autoclave , front loading autoclave
glass bid sterilizer ultrasonic cleaner pouch sealing machine )
 Department having computers , printers, x-ray scanner, cephalometrics tracing
software,(Nemoceph )
 Department well connected with Wi-Fi
 Separate Department library
 Department is having a fridge and small museum for undergraduate
 Department is also having modern equipment for pre clinical lab 02 biostar
machines , hydro solder machine , 4 cast trimmers plaster mixing vibrators ,micromoters hand pieces, polishing lathe machine plaster dispensers .
 Department is also separate records rooms for patient records.
Teaching Learning Method
Problem based Learning
I-CARE
OSPE/OSCE
Inter-disciplinary seminars
Open book test
Project based learning
A total of 49 Lectures in the form of PowerPoint
CD's available in Departmental
Case Discussions
HOD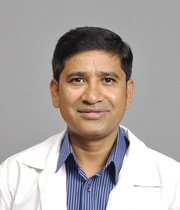 Dr. Chanamallappa Ganiger
Professor & Head.

Tel (Office) – 02164-241555/6/7

deansds@kvv.edu.in
National Inter – Disciplinary Clinico-Pathological Conference, has Chaired a scientific session at School of Dental Sciences, Karad by 25th May 2022. 25th IOS PG Student Convention held at Mangaluru 25th April 2022 to 1st May 2022 Workshop on Participated Quality control implementation organised by school of Dental Sciences Krishna Vishwa Vidyapeeth( Deemed to be University) ,Karad on 30 May 2022
Staff

Dr. Renuka Pawar
BDS, MDS
Professor
Dr.Sandesh Phaphe
BDS, MDS
Associate Professor
Dr. Yusuf A.R
BDS, MDS
Associate Professor

Dr. Pratap Mane
BDS, MDS
Assistant Professor
Dr. Seema Patil
BDS, MDS
Assistant Professor
Events, Webinar, Workshop, Conference
IPR (Intellectual Property Rights)
| Sr. No | Title of Patent | Name of Faculty | Application No. | Date |
| --- | --- | --- | --- | --- |
Publications
| Sr. No | Title of the paper | Name of the Author/s | Name of the Journal | Month of Publication |
| --- | --- | --- | --- | --- |
Copyrights
| Sr. No | Name of faculty / student | No and date | Title of Copyright |
| --- | --- | --- | --- |