Oral Pathology and Microbiology

02164-241555/6/7
Head of Department :
Dr. Nupura Vibhute
Professor & Head.
About Department Of Oral Pathology and Microbiology
The Department of Oral Pathology and Microbiology deals with teaching the subject of Dental Anatomy, Embryology and Oral Histology for the First BDS course and the Subject of Oral Pathology and Microbiology for the third year BDS course. The department is involved in training the post graduate students in the speciality of Oral and Maxillofacial Pathology and Microbiology. The department has well qualified , enthusiastic and hardworking teaching staff, good teaching and learning resources including models , latest equipments like penta head microscope and research microscope and internet facility for staff and students
Vision
To emerge as a centre of excellence that encompasses best evidence based educational practices in the field of Oral Pathology and offers access to excellent laboratory services for the diagnosis of oral pathologies.
Mission
To foster excellence in undergraduate and post graduate education and research in the field of Oral Pathology
To foster interdisciplinary approach that will generate meaningful outcomes for the community and nation.
To promote use of latest histotechniques in the histopathology of maxillofacial pathologies.
Objectives
Provide educational programs to train undergraduate & post graduate students in Oral Pathology
Train the students to develop an understanding of common oral diseases, their diagnosis & correlation with systemic diseases & laboratory findings.
Encourage and undertake research on the common oral pathologies
Important Infrastructure
Well equipped spacious spacious undergraduate Oral Pathology, Dental anatomy & histology practical hall, museum and PG clinic and seminar room. Latest state of art equipment including Pentahead microscope, Research microscope with polarization, phase contrast, dark field, binocular and monocular microscopes, microtome, precision balance, etc.
Teaching Learning Method
The department is involved in teaching Undergraduate students of I BDS, II BDS & III BDS in the subjects of Oral Anatomy & Histology and Oral Pathology & Microbiology respectively.
In Oral Pathology, about 110hrs of theory are taken annually covering all the basic aspects and 176 hrs of practical classes are taken annually wherein students are trained to identify the pathology slides, casts and specimens of Oral diseases.
Students are also trained using case presentations and pictorial representation of oral diseases, participate in discussions and present seminars.
In Oral Anatomy & Histology, practicals are dealt with respect to the normal histology slides related to tooth development and various other Oro-facial structures, identification of normal morphology and different dentitions of human teeth with the help of casts and specimens.
Innovative teaching methods like crosswords are encouraged.
Advanced learners are trained for Short seminars presentation, participations in conferences, preparation of scientific posters and charts and Preparation of models for the museum
Slow learners are guided with Separate discussion sessions, Additional practice tests and extra practical coaching
HOD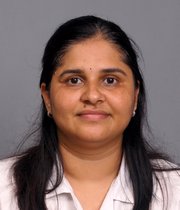 Dr. Nupura Vibhute
Professor & Head.

Tel (Office) – 02164-241555/6/7

deansds@kvv.edu.in
She is currently Professor and Head, in Department of Oral Pathology and Microbiology, School of Dental Sciences,Karad. She has completed her graduation from Pravara Medical Trust & Rural Dental College, Loni and post-graduation from Bharati Vidyapeeth Dental College, Pune and is currently pursuing her Ph.D. She is a Post graduate teacher and guide, and also examiner and moderator for postgraduate and undergraduate exams at various Universities. She has authored two books, has been granted 3 copyrights from Govt of India and has more than 70 national and international publications to her credit. She has a special interest in Forensic Odontology and Dental Education Technology. She is a popular teacher and an avid writer.
Staff

Dr. Uzma Belgaumi
BDS, MDS,PhD
Associate Professor

Dr. Vidya Kadashetti
BDS, MDS
Associate Professor

Dr. Wasim Kamate
BDS, MDS
Assistant Professor

Dr. Rashmi Gangavati
BDS, MDS
Assistant Professor
Events, Webinar, Workshop, Conference
IPR (Intellectual Property Rights)
| Sr. No | Title of Patent | Name of Faculty | Application No. | Date |
| --- | --- | --- | --- | --- |
Publications
| Sr. No | Title of the paper | Name of the Author/s | Name of the Journal | Month of Publication |
| --- | --- | --- | --- | --- |
Copyrights
| Sr. No | Name of faculty / student | No and date | Title of Copyright |
| --- | --- | --- | --- |