Oral Medicine and Radiology

02164-241555/6/7
Head of Department :
Dr. Kamala K. A (BDS,MDS,PhD)
Associate Professor & Head of Department
About Department Of Oral Medicine and Radiology
Oral medicine is the specialty of dentistry concerned with the oral health care of patients with chronic, recurrent and medically related disorders of the oral and maxillofacial region, and with their diagnosis and non-surgical management. Radiology part of the subject equips the budding dentists in the field of diagnosis using conventional and advanced imaging methods with the study of radiation including x rays as applicable to oral diseases, radiographic techniques to take radiographs of oral and maxillofacial regions, radiographic interpretation to diagnose various diseases.
Also the department deals with investigatory procedures like pulp testing, advising blood investigations and serum chemistry, referral & consultations with other specialists.
Diagnosis and treatment of oral mucosal lesions, potentially malignant disorders, and oral malignancies. Diagnosis of the pathological lesions/ conditions related to tooth and periodontium and identification of oral manifestations of systemic diseases and their effective treatment.
Diagnosis of various diseases using radio graphs like Orthopantomogram,lateral cepahlogram,cone beam computed tomography in the department.
Vision
- To foster excellence in Undergraduate Education, Research, and patient care in the field of Oral Medicine and Radiology.
- To promote the study & dissemination of knowledge regarding the medical aspects of Dentistry while serving the best interests of the Public.
- To promote the highest standard of care in the diagnosis & treatment of oral and maxillofacial pathologies.
- To foster increased understanding and cooperation between the medical & dental profession.
Mission
- Early diagnosis and prompt treatment of precancerous oro -mucosal lesions and their prevention.
- To improve the quality of life in patients with medically related oral disease.
- Introduction and increased use of advanced imaging modalities in the diagnosis of maxillofacial pathologies.
- To promote and practice the principles of Evidence Based Dentistry
Objectives
- Provide educational programs to train pre-doctoral dental students in present-day knowledge.
- To provide quality education to the students & encourage them for research work.
- Provide accessible & affordable dental care & raise awareness among the people of western Maharashtra.
- To diagnose and manage various oral mucosal lesions, TMJ disorders, orofacial pain.
- To provide modern Radiodiagnostic facilities
- General Health through Oral health
- A strong emphasis is placed on the recognition of oral health as part of general health. Over the years, the unit has acquired a reputation and recognition for excellence in teaching and patient care.
- This department screens all patients who seek emergency & comprehensive dental treatment and provides consultative services for them.
Important Infrastructure
Intraoral radiographs: IOPA, Bitewing, Occlusal : For inpatient and out patient (IPD & OPD) and referral from outside.
Radiovisography - RVG : For inpatient and outpatient (IPD & OPD) and referral from outside
Carestream 8100 Digital OPG Machine : Digital OPG service for inpatient & out patient (IPD & OPD) and referral from outside
Carestream Dental CS 9600 CBCT Machine with 16X10 FOV: CBCT – for Maxillofacial region for inpatient and outpatient (IPD & OPD) and referral from outside
Teaching Learning Method
Teaching – learning methods
OSCE
One Minute Preceptorship
Problem Based Learning
Group discussions
Flipped classroom
Integrated Teaching
Seminars
Project based learning
HOD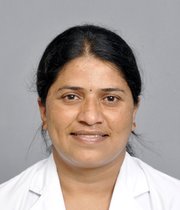 Dr. Kamala K. A (BDS,MDS,PhD)
Associate Professor & Head of Department

Tel (Office) – 02164-241555/6/7

deansds@kvv.edu.in
Dr. Kamala K. A is head of OMDR (in charge) at SDS, KVV Karad, Maharashtra. Received Medworld Asia International (MAIER) Awards 2020, VD GOOD International Scientific Award in 2021 and Best Researcher Award 2022 the category: Excellency in Dental Research. She holds Ph.D degree, PG Diploma in Medico Legal Systems (KIMSDU) from KVVDU Karad and Fellowship in Academy of General Education (FAGE) from Manipal University. She has a particular interest in research and has been conducting many research projects and has more than 48 research publication in various national and international journals. She specializes in the field of early detection of oral cancer and works as Tobacco cessation counsellor. Apart she masters as oral and maxillofacial physician and radiologist, including the CBCT.
Staff
Dr. Ashwinirani SR
BDS, MDS
Assistant Professor

Dr. Vijayalakshmi N. Gachinamath
BDS, MDS
Assistant Professor
Courses
<PageQuerySet [<Course: Ph. D. – Oral Medicine & Radiology>]> []
Events, Webinar, Workshop, Conference
IPR (Intellectual Property Rights)
| Sr. No | Title of Patent | Name of Faculty | Application No. | Date |
| --- | --- | --- | --- | --- |
Publications
| Sr. No | Title of the paper | Name of the Author/s | Name of the Journal | Month of Publication |
| --- | --- | --- | --- | --- |
Copyrights
| Sr. No | Name of faculty / student | No and date | Title of Copyright |
| --- | --- | --- | --- |