Oral and Maxillofacial Surgery

02164-241555/6/7
Head of Department :
Dr. Nilesh Mishra
Professor & Head.
About Department Of Oral and Maxillofacial Surgery
OMFS is the branch of dentistry that offers a comprehensive service relating to conditions of the face, mouth, and jaws, including routine assessment and surgical and/or medical management for various oral surgical conditions.
Vision
The Department of OMFS aspires to be a leading center meeting international standards in the art of diagnosis, surgical treatment plan and management or various oral and facial diseases and conditions. The department also intends to undertake advanced research, integrate scientific learning, and be a forerunner amongst oral health care providers.
Mission
To provide comprehensive Oral and maxillofacial surgical care with quality assurance and patient satisfaction.
To engage in clinically oriented research and scholarly activity, creating a rich environment for evidence-based education.
To educate and train graduate and postgraduate students in didactic and clinical applications with a lifelong learning experience in the various aspects of oral and maxillofacial surgery.
To create an atmosphere that is suitable for patients and students
To outreach the patients of the most remote area through various community based programs.
Objectives
The training program in Oral and Maxillofacial Surgery is structured to achieve the following five objectives-
1) Knowledge
2) Skills
3) Attitude
4) Communicative skills and ability
5) Research
The objectives of training provided in the department of OMFS will include:
To have acquired adequate knowledge and understanding of the etiology, pathophysiology and diagnosis, treatment planning of various common oral and maxillofacial surgical problems both minor and major in nature.
To have understood the general surgical principles like pre and post-surgical management, particularly evaluation, post-surgical care, fluid and electrolyte management, blood transfusion and post-surgical pain management.
Understanding of basic sciences relevant to practice of oral and maxillofacial surgery
To gain essential knowledge of personal hygiene and infection control, prevention of cross infection and safe disposal of hospital waste keeping in view the high prevalence of hepatitis and HIV
Important Infrastructure
The department of oral and maxillofacial surgery has dedicated undergraduate and postgraduate clinics. In the undergraduate clinic, routinely carried-out procedures include normal and surgical tooth extractions. There is a dedicated minor oral surgery clinic to carry out various oral surgical procedures, including alveoloplasty, apicocectomy, and cyst enucleation.
The department comprises a sophisticated implant centre with high-end, fully equipped dental chairs and multiple implant systems. Various basic and advanced implant procedures, ranging from conventional implants, corticobasal implants, bone grafts, sinus lift surgeries, zygomatic implants, and patient-specific implants, are routinely carried out. Apart from basic amenities, the department is associated with a VIP clinic where all the dental procedures are carried out under one roof.
The postgraduate clinic carries out all minor surgical procedures, including surgical extraction, closed and open reduction of maxillofacial fractures, cyst enucleation, jaw tumour resections, treatment of space infection, biopsies, suturing of soft tissue lacerations, and arthrocentesis, among others. The postgraduate clinic has state-of-the-art equipment, including modern laser devices for soft tissue lesions and a peizosurgery unit for advanced bone cutting. The department also has RF cautery, an oscillating saw, bone cutting motors, an osteotomy kit, a cleft surgery kit, a bone grafting kit, a trauma set including a bone plating kit, and a distraction osteogenesis kit. The department also has a dedicated recovery room, faculty rooms, a PG room, a seminar room, and a department library.
The department also has a dedicated operation theatre, ICU, and wards at Krishna Hospital for the management of maxillofacial trauma, benign jawbone and orofacial pathologies, facial clefts, oral malignancies, reconstructive surgeries, and TMJ surgeries. The department also has a dedicated recovery room, a patient waiting area, faculty rooms, a PG room, a seminar room, and a department library.
Teaching Learning Method
Problem based Learning
I-CARE
OSPE/OSCE
Peer Teaching
Inter-disciplinary seminars
Small group teaching
Quiz
Open book tests
Project based learning
HOD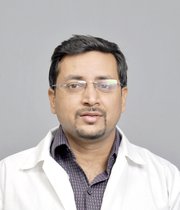 Dr. Nilesh Mishra
Professor & Head.

Tel (Office) – 02164-241555/6/7

deansds@kvv.edu.in
Dr. Nilesh Mishra is a professor and HOD of the Department of Oral and Maxillofacial Surgery at SDS, KVV, Karad, Maharashtra. He is a postgraduate teacher and a recognised UG and PG examiner. He has over one hundred publications in international and national (PubMed and Scopus-indexed) journals. He is also working as an editorial board member and reviewer for various journals. He has written five textbooks in various fields of maxillofacial surgery. He is the nodal officer for cleft and craniofacial surgery at KIMSDU, Karad. He has clinical experience of over 15 years and his areas of expertise include maxillofacial trauma, surgical management of head and neck pathology, oral malignancy, and TMJ disorders, as well as minor oral surgery and dental implantology.
Staff

Dr. MouneshKumar C.D
BDS, MDS
Professor

Dr. Prashant Punde
BDS, MDS
Associate Professor

Dr. Pankaj B Patil
BDS, MDS
Associate Professor

Dr. Laxman Malkunje
BDS, MDS
Associate Professor

Dr. Vinayak More
BDS, MDS
Associate Professor

Dr. Hansraj Dilip Patil
BDS,MDS
Assistant Professor

Dr. Chinju Punnen
BDS, MDS
Assistant Professor

Dr. Ankush Bandare
BDS, MDS
Assistant Professor
Dr. Sagar Thorat
BDS,MDS
Assistant Professor
Dr. Shrikant Patil
BDS,MDS
Assistant Professor
Events, Webinar, Workshop, Conference
IPR (Intellectual Property Rights)
| Sr. No | Title of Patent | Name of Faculty | Application No. | Date |
| --- | --- | --- | --- | --- |
Publications
| Sr. No | Title of the paper | Name of the Author/s | Name of the Journal | Month of Publication |
| --- | --- | --- | --- | --- |
Copyrights
| Sr. No | Name of faculty / student | No and date | Title of Copyright |
| --- | --- | --- | --- |